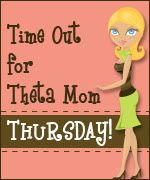 It's Time Out for Theta Mom Thursday! The goal is to grab one hour of time within one week to do whatever you want…without the kids. It's such an amazing proposition, I know so I thought I would join in. I really like the concept and everyone participating is so nice :)
So, This week I .....
I went to the Orthopedic specialist on Tuesday for my shoulder and he told me that I should get corizone injections. I guess that I will deal with the pain right now and wait a few more weeks and see if the Physical therapy helps. I've heard that the shots are painful and I'm not sure that I'm in that much pain to get one right now. I really didn't do anything too exciting this week. I guess I'm pretty boring.
I will be spending more time with the kids this week as they have a half day of school today and none tomorrow. I have parent/teacher conferences and get their report cards tomorrow.
Let's see if I can do something more fun next week.