If You are looking for that one accessory that will make your outfit just right, Check out Pirose!!!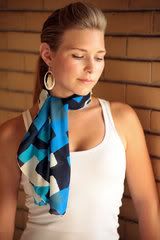 Reno Rose brings you the
Pirose.
It is a stylish and innovative scarf with endless fashion potential. This one scarf can be worn many different ways.
Check it Out!!
Wow!!! Look at all the ways, you can wear one item. I have to say, I love this scarf. And my tween daughter does too. She was so excited when I received this in mail, she begged me to let her keep it. So that tells you- it is Stylish! ( If my tween daughter wanted this.) I guess we can share it. Really, it is funny... because I didn't request a certain color or anything, I just stated which size I wanted. ( You can check out the
sizing
for the different ways to wear them and then decide which one is right for you.) But, I was sent the
Tobi
, which is multi-blue colored and perfect for me/my tween. This one is great, the colors are nice and this one really will go with so much. The quality is great and this is definitely one item that can be used so many ways. I love the endless possiblities. This is great too, because it can be washed and dried easily too.
You can
purchase
the Pirose scarf for $35, which is a great price seeing how much you can wear this.
*Disclosure: I received a Pirose scarf, free of charge, from Reno Rose Inc, for the purposes of this review. This is a
MamaBuzz review
, check out what the others are saying and visit MamaBuzz for your chance to win a Pirose Scarf.