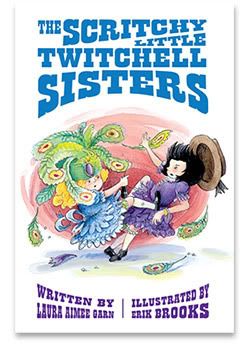 The Scritchy Little Twitchell Sisters
By Laura Aimee Garn
Illustrated by Erik Brooks
About the Book:
Lavinia and Emmeline Twitchell look like perfect little angels, but their behavior is anything but angelic! They squabble constantly, and their poor parents suffer in a noisy, divided household. When the girls are "discovered" by a creative vaudeville producer, their spectacular fights become entertainment, and they are launched on a glamorous career. Battles may be part of growing up with a sister, but it helps to look at them with humor. The Twitchell Sisters demonstrate that someday the fights may yield to understanding and appreciation.
My Review:
I really love this concept of character building themed books. In this story, the theme is resolving conflicts. Any girl who has a sister will understand and enjoy this book. I have two sisters and we used to fight just like these sisters did. Our fights might not have been this bad, or about the same things, but we did fight. Even though we used to fight with one another we still loved and cared for each other. Just like in this story. I like how this was written and I feel that anyone can learn from this lesson. My daughter doesn't have a sister but she fights with her brother sometimes and I think she can relate to this story. I really want my children to read this book. What eles I really like from Pretty Please Press books is that you can download free concept building cards and lesson plans to go along with their books. This is a great option for parents and teachers.
Check out my other review of Pretty please Press Books and Enter to win this book in my giveaway
here
Pretty Please Press publishes children's books that are designed to be read aloud and talked about. Each book contains a message about character and values that helps parents and children think and talk about a variety of issues. Pretty Please Press was founded in 2001 by author Laura Aimee Garn, and is now led by publisher Vera Venturi.
Currently Pretty Please Press has 20% off the list price for their books purchased through
their site
as well as "buy 3 get 1 free offer".
**Disclosure~I received a copy of this book for review purposes**
Thank you to Pretty Please Press for the complimentary books for review and giveaway!