The Making of a Hitter: A Proven and Practical Step-by-Step Baseball Guide
By: Former Major Leaguer-Jack Perconte
Forword by: Mike Scioscia-Current Major League Manager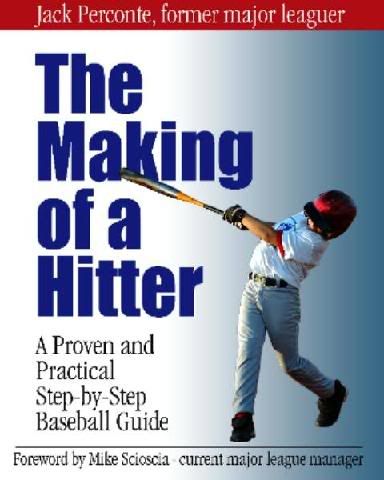 The Making of a Hitter: A Proven and Practical Step-by Step Baseball Guide
Things you are guaranteed to learn:
~5 Best Drills to teach the Fundamentals
~ Coaching techniques that will allow everyone to leave practice feeling good
~The struggles and successes of a major leaguer (Jack Perconte) and how he dealt with them
~How to analyze a hitter's swing and how to check a hitter's fundamentals instantly ~How to teach the strike zone
~Mental tips guaranteed to produce a confident hitter
~Advanced Hitting drills to solve all hitting problems
~Tips for bunting, hit and run and for all offensive hitting strategies
~Information to help every age hitter (3 Years old to professional)
My thougths:
My children play ball. My daughter's playing Softball and my son's playing Baseball.
I specialize in Gymnastics and I don't know much about baseball. I know how to play the game and keep score but that's about it. My husband used to play Baseball and was pretty good in the day. Now, he coaches the kids in Little League. I have never been a good hitter and I was of no help to my children practicing their skills.
That was the reason behind me wanting to read this book. Besides, I thought that my husband and the other baseball coaches may be able to learn a bit too.
So, I've read this book and I can't say I'm going to be the best hitter there is, but I have learned quite a bit. This book teaches the fundamentals and has so many great drills in here that will teach everyone a few things. Besides giving you drills to practice and the advantages and reasons for doing the drills, this book goes over problem solving and much more. I feel that this is a book that any parent and or baseball coach would like to read and would benefit from. My daughter and husband are reading this book and I will be recommending this to our Little League group of friends.
To learn more about this book and to get yourself a copy, visit
http://www.themakingofahitter.com
*Disclosure: I received this book complimentary for review purposes but this is my honest opinion and thoughts*