Giveaway Now Closed.Congrats to Bookie!!!

This neckTie is awesome!!! It looks even better in person than in this picture. I know you are all disappointed because you wanted to see my handsome husband wearing this necktie... not just a picture of a necktie. Well... I am too!! I was going to take a picture of him wearing this great necktie, but I will be honest with you all. My husband doesn't dress up much. He wears jeans and boots to work outside and gets quite dirty while working. He dresses up for special occaisions, not everyday for work like some business men. So... that said.. My husband doesn't really know how to tie a necktie... He usually gets help from my brother-in law (who was not here to help) I know-that's pathetic and my husband needs to learn how to do this. I should've been smarter and pick out an already tied necktie, but I really loved this one and requested this one to review. This necktie pictured is the Railroad Silk NeckTie by Umo Lorenzo and has been inspired by the many railroad tracks that sweep our great nation. This printed silk tie is available in a royal blue and gray combination (as shown) or in a brown and light blue combination. This necktie is 100% Silk, Hand made and Dry Clean only. This necktie usually sells for $23.95 but is on sale right now for $15.26. I loved this design and I thought that this necktie was nicely made. I picked this necktie out of the huge selection that ABCNeckties.com has to offer because I thought that my husband would look pretty fashionable wearing this. I was amazed at the price and quality of this necktie. My husband is going to look so handsome wearing this necktie on Easter Sunday.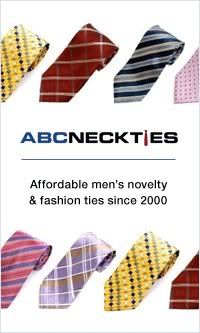 Great news... One of my lucky readers can win a $25 Gift Certificate to ABCNeckties
MANDATORY/REQUIRED ENTRY
:
Visit ABCNECKTIES.Com and tell me which tie is your favorite.
EXTRA ENTRIES:
To receive these extra opportunities for entries, you must fulfill the first REQUIRED entry. But in addition you can:
■Subscribe via e-mail (1 extra entry)
■Follow me via Google friend Connect (2 extra entries)
■Add @Shawnmh to your Twitter -Leave me your twitter ID (2 extra entries)
■Add @ABCNeckties to your Twitter -Leave me your twitter ID (2 extra entries)
■ Tweet this giveaway on Twitter. Be sure to include a link to this contest page (Leave me the link)(1 extra entry/this may be done daily)
■Fan ABCNeckties on facebook (2 extra entries)
■Add my button to your site AND/OR add me to your blog roll.(1 entry for each)
■Blog about this contest: Add a link to this post (5 extra entries)
■Vote for @colleen_mouse to be the Next #Mamavation Mom on
Mamavation.com
(5 extra entries)This can be done daily from 4/5-4/12
This giveaway is open to US and Canada residents only
. Please leave a seperate comment for each entry.(Please make sure if you are anonymous you leave your email address with your comments.)
This giveaway will end on April 15th at 11:59 pm Est
. The winner will be notified and have 48 hours to respond to my email or another winner will be choosen
**Disclosure- I received the Railroad necktie free for review purposes and this is my honest opinion and thoughts.**