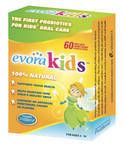 EvoraKids
is the first probiotic-based, all-natural oral care chewable created to promote oral health (for children 3-10 years old).
Featuring a tasty Wild Very Cherry Berry chew, EvoraKids includes Oragenics' patent pending ProBiora3 technology, which has been specifically formulated for children to help maintain healthy teeth, their biggest oral care problem.
EvoraKids reaches where toothbrushes and floss can't--into the crevices on the chewing surfaces of teeth. According to the Journal of the American Dental Association*, 80-90% of cavities in children occur on the chewing surfaces of their teeth. The major cause of tooth decay is Streptococcus mutans, a common bacteria found in dental plaque. It thrives in people with diets high in sugar, and especially children who tend to eat sugary foods often and haven't yet learned the need for good oral hygiene.
"Kids have very special oral care needs, and are much more likely than adults to form cavities. The probiotics in EvoraKids™ effectively compete with certain harmful bacteria for both nutrients and space on tooth surfaces. Daily application of the special blend of probiotics in EvoraKids will help support healthy teeth in children," said Dr. Jeffrey Hillman, D.M.D., Ph.D., Chief Scientific Officer of Oragenics, Inc.
EvoraKids is 100% natural and GMO free, with no artificial colors or flavors or sweeteners. It's sugar, gluten, soy and dairy free.
My Thoughts:
I love this. My 8 year old son has been using this product. It's so easy! I think that since we have gotten this product, he has been more concerned with brushing his teeth regularly and chewing this tablet. He likes the taste. I love how using this procuct has encouraged him to take better care of this teeth. Because it's difficult to know how well my son is brushing his teeth, the simple step of adding EvoraKids, with its Wild Very Cherry Berry blast of flavor, to his regular oral hygiene program has given me peace of mind. I only wish this product was out a few years ago.
EvoraKids will be available worldwide through mass retail, pharmacies and grocerie stores, as well as
online
.
Also available is EvoraPlus for Adults.
Better yet...
One of my lucky readers can win their own 30 day supply.MANDATORY/REQUIRED ENTRY
:
You need to Follow me and leave a Comment telling me an Oral Hygiene Tip.
EXTRA ENTRIES:
To receive these extra opportunities for entries, you must fulfill the first REQUIRED entry. But in addition you can:
■Subscribe via e-mail (1 extra entry)
■Add @Shawnmh to your Twitter -Leave me your twitter ID (3 extra entries)
■ Tweet this giveaway on Twitter. Be sure to include a link to this contest page (Leave me the link)(1 extra entry/this may be done daily)
■Add my button to your site AND/OR add me to your blog roll.(1 entry for each)
■Blog about this contest: Add a link to this post (5 extra entries)
This giveaway is open to US only. Please leave a seperate comment for each entry.(Please make sure if you are anonymous you leave your email address with your comments.)
This giveaway will end on March 24th at 11:59 pm Est. The winner will be notified and have 48 hours to respond to my email or another winner will be choosen
**Disclosure: I received this product complimentary to review. This is my own results and opinions**