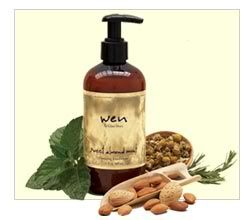 The WEN® Cleansing Conditioner by Chaz Dean
is a revolutionary new concept in cleansing your hair that has Hollywood buzzing! It's special because it cleanses hair thoroughly but without lathering and all the harsh ingredients that may be found in ordinary shampoos — it is designed so it won't strip your hair and scalp of their natural oils. Your hair is left with sheen, moisture, manageability and better color retention. The Wen® Cleansing Conditioner is designed to eliminate ordinary shampoo without sacrificing the integrity and beauty of your hair.
My Thoughts:
I have dry damaged hair, I believe from coloring and styling products,so when I was given the opportunity to try this Wen Cleansing Conditioner, I was hoping it would give me healthy and better looking hair. It did!!! I like the smell,it's minty and fresh. I read the directions and it says to use 16-24 pumps, but I have short hair so I only use about 5 pumps and that works pretty good for me. I have been using this for a few weeks and I can notice quite a difference in my hair. It doesn't seem to be as dry or damaged. This is really working well. I have way more body and shine after using this. I have tried other specialty shampoos and conditioners and have not had as good of results as I've had with using the Wen Cleansing Conditioner. I would recommend this to anyone who wants great hair. This is so easy to use being a single step process that cleanses and conditions all in one.
For more information about this product or to purchase this, please visit
www.wenhaircare.com
**Disclosure: I received a full 12 oz bottle of the Wen Cleansing Conditioner free of charge to use for review purposes. This is my own opinion and results from using this product.**