Giveaway Closed. Congrats to Jonnie,Benita,Darcie,Wanda and Wendi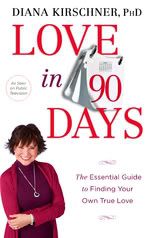 About the Book
Finding true love is possible in just 90 days. Renowned clinical psychologist, Dr. Diana Kirschner, uses the latest research, clinical and personal experience to show you how. Dr. Diana knows the questions single women everywhere face: "Why am I attracted to the wrong kind of guys?" "Why is he just not that into me?" "Why can't I seem to find the One?" She also knows the unconscious mistakes that women make over and over again in love-regardless of age, work success, or the type of men they are dating.
Over the years Dr. Diana has received countless inquiries from single women about writing a how-to guide on her work. Love in 90 Days: The Essential Guide to Finding Your Own True Love is that book.
Love in 90 Days is fun, savvy and based on the latest research on singles, online dating and healthy relationships. Loaded with step-by-step instructions, checklists, and weekly homework assignments, this revolutionary love book is also an intensely personal journey for each reader. Love in 90 Days guides you along your own path towards self discovery with proven and effective dating advice and tough love. Dr. Diana dispels common misconceptions about love relationships and dating, and share personal stories from women who have successfully completed the Love in 90 Days Program. There's also a chapter devoted to the special issues faced by African-American women, single mothers, and women forty-five and older.
About the Author:
Diana Kirschner, Ph.D., is a clinical psychologist who has more than 25 years of professional and practical experience doing therapy and workshops for singles and writing relationship articles for women. Dr. Diana appears regularly on The Today Show, has been a guest on Oprah and many other national television and radio programs. She runs the 90 Day Love Challenge on Fox's Morning Show with Mike & Juliet and her popular Love in 90 Days workshops have been featured in major media around the world.
Reviews of Love in 90 Days
"Are you just thinking about getting back into dating? Or is your current dating strategy getting you nowhere? Maybe you're with a guy now and wondering if he's "The One?" Or are you in a relationship now that you know deep inside is failing? No matter what is happening in your love life, Love in 90 Days is for you. Grab this book now. It truly rocks!" ~Steve Nakamoto, Writers Digest award-winning author of Men are Like Fish; What Every Women Needs to Know about Catching a Man
"A wonderful addition to any single woman's library...I was thrilled with how many times Dr. Diana exceeded my expectations...Chapter Two (the Deadly Dating Patterns is mandatory reading." ~Bonny Albo, Dating Guide at About.com
"The best-selling, how to book, flew off the shelves of bookstores and a copy seems to be on the coffee tables and reference material for many of my friends..."Love in 90 Days" is replete with pages of heart-filled ideas and exercises. Like the song: summertime and the reading is easy. Go for it."
~Page Larkin, Examiner.com
You can purchase the book
here
Or You can Win it!! Hatchette Book Group has generously offered Five copies of Love in 90 Days to Five of my lucky readers.
MANDATORY/REQUIRED ENTRY
:
You need to Follow me and leave a Comment telling me if you are looking for love? or if you are married then please leave me a "love" tip
EXTRA ENTRIES:
To receive these extra opportunities for entries, you must fulfill the first REQUIRED entry. But in addition you can:
■Subscribe via e-mail (1 extra entry)
■Add @Shawnmh to your Twitter -Leave me your twitter ID (1 extra entry)
■ Tweet this giveaway on Twitter. Be sure to include a link to this contest page (Leave me the link)(1 extra entry/this may be done daily)
■Add my button to your site AND/OR add me to your blog roll.(1 entry for each)
■Blog about this contest: Add a link to this post (5 extra entries)
This giveaway is open to US and Canada residents only and can not be shipped to PO Boxes. Please leave a seperate comment for each entry.(Please make sure if you are anonymous you leave your email address with your comments.)
This giveaway will end on Jan 24 at 11:59 pm Est. The winner will be notified and have 48 hours to respond to my email or another winner will be choosen.