Giveaway Now Closed. Congrats to Jason, Mary, Pam, Sheila amd Heather.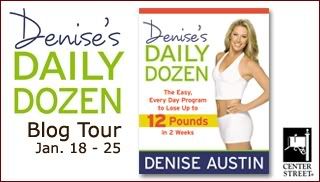 Book Description:
From Denise Austin comes the perfect health book for anyone who wants to live better but just can't seem to find the time. Much more than just another excercise book, Denise's Daily Dozen covers a whole range of health and diet related concepts yet manages it all in a no-stress, time-conscious program of 12's. At it's core, this book contains the minimum daily requirements to keep the reader flexible, strong and trim. Organized simply into seven chapters, which equal the seven days of the week, it covers a full week in daily allotments. Each day will have it's own focus from Monday being "fat burning day" to Sunday's "recharge and rejuvenate."
Denise has created a total body program, including a 7-day balanced meal plan that includes healthy recipes, and a workout that encompasses 12 exercises done in 12 minutes each day. Everyone can take just 12 minutes, at whatever time of the day works for them, and turn it over to these simple and fun exercises. Cardio, toning, yoga and breathing exercises...they're all here but in a way the maximizes effect while minimizing time.
Beyond a dozen exercises for each day of the week this book will include many other of Denises dozens for each day.
About the Author:
A native of San Pedro, California, Denise started gymnastics at the age of 12 and earned an athletic scholarship to the University of Arizona, graduating in 1979 with an exercise physiology degree. She began her career teaching aerobic exercise classes in the Los Angeles area and went on to cohost the The Jack LaLanne Show, in 1981. (Denise considers Jack LaLanne one of her role models, and she is delighted to still speak regularly with the 94-year-old fitness legend.)
During more than 25 years promoting health and fitness, Denise has created 82 workout videos or DVDs. Her enormous number of sales led to her 2003 induction into the Video Hall of Fame.
Denise has been married for 25 years to Jeff Austin, a sports attorney and brother of tennis champ Tracy Austin. They share a home with their two teenage daughters, Kelly and Katie.
My Thoughts:
I really like this book. This is an easy to read and follow book. I love how this book gives you a three week meal plan to follow and a very quick daily workout. The pictures show you exactly how to do each exercise and the directions are very descriptive and easy to follow. I love the Variety and each day of the week You have a different Twelve minute work out to do. This really spices things up and keeps it fun. There is also great Tips and advice in this book. One of the best aspect is that you don't need any fancy, heavy equipment and you can do these exercises in your own home in a short amount of time. This a program designed to help you make healthy lifestyle changes and is not a short-lived diet plan. I really feel that I can benefit from this book and I started doing the daily exercises. I hope to have good results by losing a few pounds and by making exercise a daily habit.
You can purchase this book
here
Or You can Win it!! Hatchette Book Group has generously offered Five copies of Denise's Daily Dozen to Five of my lucky readers
.
MANDATORY/REQUIRED ENTRY
:
You need to Follow me and leave a Comment telling your favorite "workout" tip
EXTRA ENTRIES:
To receive these extra opportunities for entries, you must fulfill the first REQUIRED entry. But in addition you can:
■Subscribe via e-mail (1 extra entry)
■Add @Shawnmh to your Twitter -Leave me your twitter ID (1 extra entry)
■Add @DeniseAustin to your Twitter -Leave me your twitter ID (1 extra entry)
■ Tweet this giveaway on Twitter. Be sure to include a link to this contest page (Leave me the link)(1 extra entry/this may be done daily)
■Add my button to your site AND/OR add me to your blog roll.(1 entry for each)
■Blog about this contest: Add a link to this post (5 extra entries)
This giveaway is open to US and Canada residents only and can not be shipped to PO Boxes. Please leave a seperate comment for each entry.(Please make sure if you are anonymous you leave your email address with your comments.)
This giveaway will end on Jan 28 at 11:59 pm Est. The winner will be notified and have 48 hours to respond to my email or another winner will be choosen