We took the Wat-aah Challenge...(To take the Challenge... Simply place the WAT-AAH! in your fridge next to sodas and tell us what happens... will you kids choose WAT-AAH! over soda?)
Our Results 1 to 1 ... One of my children decided to pick the Soda and the Other decided to pick the Wat-aah. I guess it was a TIE in my house. I can say that my child that picked soda later picked the Wat-aah. My son who picked the Wat-aah said it was the "Cool Bottle" that made his decision.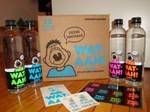 Want to challenge your kids? Well thanks to Wat-ahh one lucky reader can do this too by winning a case of Wat-ahh!
To enter: Tell me if you think your child will choose the water over other choices in the fridge.
To receive these extra opportunities for entries, you must fulfill the first REQUIRED entry. But in addition you can:
■Participate in the
Wats the word contest
(A chance to win a pair of custom shoes) leave a comment here saying you participated.
■Subscribe via e-mail (1 extra entry)
■Add @Shawnmh to your Twitter -Leave me your twitter ID (1 extra entry)
■Add @wataah to your Twitter -Leave me your twitter ID (1 extra entry)
■ Tweet this giveaway on Twitter. Be sure to include a link to this contest page (Leave me the link)(1 extra entry/this may be done daily)
■Add my button to your site AND/OR add me to your blog roll.(1 entry for each)
■Blog about this contest: Add a link to this post (5 extra entries)
■Follow the
Wat-aah blog
This giveaway is open to US only. Please leave a seperate comment for each entry.(Please make sure if you are anonymous you leave your email address with your comments.)This giveaway will end on Jan 26 at 11:59 pm Est. The winner will be notified and have 48 hours to respond to my email or another winner will be choosenExtra entries:
**Disclosure: I was sent four bottles of Wat-ahh for free to do the challenge with my children **