Giveaway now Closed. Congrats to Nancy and Carol.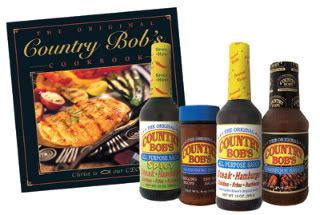 It was 1968 when Country Bob Edson perfected his steak sauce recipe and he called it an All Purpose Sauce because it was more than just a steak sauce. Country Bob's All Purpose Sauce has remained the flagship item since 1982 when Country Bob, Inc. was established.
Country Bob's All Purpose Sauce is in a class by itself. It is more than a steak sauce, because of its unique flavor and the variety of uses. You can grill, cook, and marinate with it, or put it in your soups, stews, baked beans, and your other favorite dishes. Experience the Taste of our Gluten Free All Purpose Sauce!
You can Use Country Bob's All Purpose Sauce on:
Steak, Chicken, Barbeque, Fries, Hamburger, Fish and so much more!
My Thoughts:
WOW!!! I loved it!!! Country Bob's All Purpose Sauce is GREAT! I think BBQ Sauce is ok but prefer to put ketchup on most foods. I don't use Steak Sauce, I don't care for its taste much. So... I wondered if I would like this sauce. I stuck my finger in the bottle and liked the taste. It reminds me of BBQ sauce with a tangy kick. I first tried it on french fries, I would normally smoother in ketchup, but not any more. I Loved it! Fries are awesome with Country Bob's sauce (Move over ketchup). Then I cooked a pork roast in the crock-pot and forgot about it -So my pork was perfect for pulled pork sandwiches. I put this sauce on my pork instead of regular BBQ sauce and it was Very Good. My hubby decided to try it and He loved it too. We are Hooked. I have to say it's good on fish too. I think that my ketchup is getting jealous. (LOL) I can't wait to try it on chicken and hamburgers.
You can purchase it on
Country Bob's Site
Or You can Win it!! Two of my lucky readers can win two bottles of Country Bob's All Purpose Sauce.
.
MANDATORY/REQUIRED ENTRY
:
You need to Follow me and leave a Comment telling which of Country Bob's Products you would like to try (please visit
Country Bob's site
to see the other products)
EXTRA ENTRIES:
To receive these extra opportunities for entries, you must fulfill the first REQUIRED entry. But in addition you can:
■Subscribe via e-mail (1 extra entry)
■Add @Shawnmh to your Twitter -Leave me your twitter ID (1 extra entry)
■ Tweet this giveaway on Twitter. Be sure to include a link to this contest page (Leave me the link)(1 extra entry/this may be done daily)
■Add my button to your site AND/OR add me to your blog roll.(1 entry for each)
■Blog about this contest: Add a link to this post (5 extra entries)
This giveaway is open to US only. Please leave a seperate comment for each entry.(Please make sure if you are anonymous you leave your email address with your comments.)
This giveaway will end on Feb.2 at 11:59 pm Est. The winners will be notified and have 48 hours to respond to my email or another winner will be choosen
**Disclosure: I received Two Bottles of Country Bob's All Purpose Sauce to Review. This is my thoughts and opinion.**