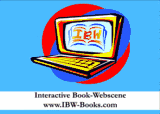 Giveaway Now Closed.. Congrats to Jessica for Winning This...
The Interactive Book-Webscene proprietary process combines the reading of a print book with the interactivity of online animations. Here's how it works: At the end of each chapter, the reader is directed to a specific link on a website associated with the book. Here, the reader views a webscene. Webscenes contain 2D and 3D animations. Each webscene is essential to the storytelling. After viewing the webscene, the reader returns to the book to read a couple of pages or another chapter, after which are instructions to view another webscene, and so on.
Each book contains 6-10 webscenes.
The Series Include:
Busy Preschoolers
which teaches 105 learning skills, including reading readiness, listening and sequencing, motor skills, and social-emotional development.
KA Readers
entertain beginning readers with word-pattern-based storylines that build upon phonics-based reading instruction. English and Spanish text, along with ESL lessons and activities, support English Language Learners in development of vocabulary and comprehension.
Earth Academy 7
storylines follow the adventures of three space-alien exchange students as they attend school on Earth. Every book is new exploration of Earth's science and history from a space alien point of view.
My son, Connor is in the Second Grade. He is an average reader but struggles abit. He usually reads the Easy Reader Books. I am trying to find books that interest him, to keep him reading and to help increase his skills. I feel that these books (From IBW)can help him gain success in reading. I like how the KA Readers help to develope vocabulary through word families.(example:hog,dog,frog,etc) While similiar rhyming styles as Dr.Seuss these stories use 85 to 100% of a word pattern's words rather than just a few. Connor read
Coming Home
, one of the nine current titles in the series and more in the works. We read this while sitting at the computer desk. After each page or two we clicked on the weblink and found animation that went with the pages he was reading. Then he read more and continued this pattern. Coming Home is a story about a Dog and Hog that Jog to a pond. There they find a Frog crying and pouting because his friends are gone. His friends had left the pond because it was dirty. Dog and Hog helped Frog figure out why the pond was dirty. Then they helped Beaver move so that the pond wasn't dirty anymore and Frogs friends moved back in the pond. The stories animation was cute and brought the story more to life, while the pop up words acted like animated flashcards to identify the objects. Connor enjoyed seeing the animation and reading the indentifying words. Here's a
link
from the book. Where Connor's reading skill is these KA readers were fairly easy for him to read and yet the next level,the Earth Academy 7 books are going to be alittle more challenging for him. I think he will enjoy reading the Earth Academy 7 Series, which should interest him and hopefully will give him more confidence to move out of his comfort zone while putting more effort in reading. I really think that having the interactivity helped Connor understand the story better.
For more information about the IBW series, as well as to purchase books, please visit them online at
www.IBW-Books.com
One of my Lucky readers can win Two(2)KA Readers MANDATORY/REQUIRED ENTRY
:
You need to Visit
IBW-Books
And tell which Titles you would like or something you learned from their site
EXTRA ENTRIES:
To receive these extra opportunities for entries, you must fulfill the first REQUIRED entry. But in addition you can:
■Subscribe via e-mail (1 extra entry)
■Follow me via Google Friend connect(1 extra entry)
■Add @Shawnmh to your Twitter -Leave me your twitter ID (1 extra entry)
■ Tweet this giveaway on Twitter. Be sure to include a link to this contest page (Leave me the link)(1 extra entry/this may be done daily)
■Add my button to your site AND/OR add me to your blog roll.(1 entry for each)
■Blog about this contest: Add a link to this post and to IBW-Books (5 extra entries)
This giveaway is open to US residents only. Please leave a seperate comment for each entry.(Please make sure if you are anonymous you leave your email address with your comments.)
This giveaway will end on Dec.10 at 11:59 pm Est. The winner will be notified and have 48 hours to respond to my email or another winner will be choosen
**Disclosure:I received a KA Reader book and an Earth Academy 7 Book for review purposes courtsey of Ghost Hunters Productions(publisher of IBW books)**
This Book Review is Linked to the Book Review Party