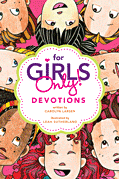 Written By: Carolyn Larsen
Illustrated By: Leah Sutherland
This devotional will help girls ages 8-12 apply biblical concepts to their daily lives. Each devotion is written and designed with today's tween and her issues in mind. Using a Scripture as the theme, each devotion includes a modern-day story and several interactive exercises, including a To-Do list, a quiz, related Scriptures, and quotations that reinforce the lesson. Filled with whimsical and girl-centric art, this fun devotional will be hard for young girls to put down!
Author Bio:
Carolyn Larsen has written more than 40 books for children and adults. She is best known as the author of the Little Girls Bible Storybook line of products, which have collectively sold more than one million units. In addition, Carolyn is a speaker who has taught and spoken extensively in the United States and overseas. She is the cofounder of the performing group Flashpoints, which is comprised of five women who share a God-ignited passion to encourage women and girls to know God better through drama, creative movement, signing, and humor. Carolyn is the mother of three and lives with her husband in Glen Ellyn, Illinois.
My Thoughts:
This is a Great Book!! I enjoyed reading this myself and I'm looking forward to my eleven year old daughter reading this. This is the perfect book for any young girl.
This devotion book tells you what the Bible says, with the scriptures and quotes, and gives you some tips on how to live out the message. This is a book, You could read over and over, or just a few pages at a time. Each devotion includes a story about a real issue that girls these days face, then there is a self-quiz for you to see how you are doing. This is very well written and gives you some easy tips and suggestions on things to do to improve on the areas You need to work on. I feel this book should be helpful to any young girl and they would enjoy reading this.
**Thank you to Tyndale House Publisher for providing me a complimentary copy of this book. This review is my own thoughts and recommendations. **