A Christmas Carol Special Edition: The Charles Dickens Classic
with Christian Insights and Discussion Questions for Groups and Families
By Charles Dickens with Stephen Skelton
Published by Standard Publishing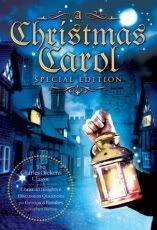 Celebrate the season with Scrooge, Bob Cratchit, Tiny Tim, Jacob Marley, and the Spirits of Christmas Past, Present, and Future—and discover how the greatest Christmas classic was based on the greastest story ever told. This special edition includes the complete text of A Christmas Carol along with notes and discussion questions written from a Christian perspective.
Since its publication in 1843, the tale of a miserly old man and the ghosts who visit him has been bringing the true spirit of Christmas into hearts and homes. Whether you've read the story a thousand times or have only seen the movie, A Christmas Carol Special Edition will enrich your enjoyment of this holiday favorite with:
•The complete text of the Charles Dickens classic.
•Annotations offering interesting insight into the story's biblical allusions, the author's faith, and compelling Christian themes throughout.
•Discussion questions designed to engage and promote dialogue among readers of all ages on such subjects as regret, repentance, and redemption.
•A list of related resources to enhance your study.
Enjoy A Christmas Carol Special Edition in your home, study group, book group, or Advent celebration and learn how to say with Scrooge:
"I will honour Christmas in my heart,
and try to keep it all the year."
My Review:
Only knowing the story from the movie(Disney's Version), I enjoyed reading A Christmas Carol Special Edition. My 11 year old daughter tried to read this herself and mentioned that we would need to read this together because some of the words were hard for her to read and understand. I appreciated the accompanying commentary since many of the expressions are from 1843 and are unfamiliar to today's modern reader. This book gives you a better understanding of the story. I liked all the insight into the spirtual meaning of the story that the notes give you. The discussion sections at the end of each chapter help you relate this story to your life and allows you to reflect on the spiritual lessons that it has to offer. This book would be great for families to read and discuss together. This Special Edition Version would make be a great book group discussion especially for Religion Education classes.
**Disclosure~I was given a complimentary copy from FSB for review.**