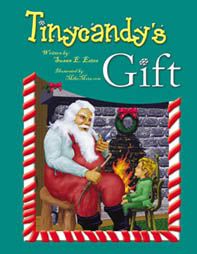 Tinycandy's Gift
Written by:Susan E. Estes
Illustrated by: Mike Motz.com
Tinycandy's Gift is a new Christmas story tracing the origins of the popular holiday treat, the candy cane. Tinycandy is an elf growing up in the North Pole who always felt left out because he walks with a limp. With Christmas approaching, Tinycandy is desperate to find his special "gift" in order to contribute to Christmas in Santa's workshop and become accepted by the other elves. When Tinycandy does discover his gift, it creates a special sweet treat that changes Christmas forever. Included Read-Along CD and Candy Cane Recipe.
My Thoughts:
This story is about an elf named Tinycandy who makes a special treat we know as the candy cane. Tinycandy is alittle different from all the other elfs, because he walks with a limp. Santa makes him a cane to help his unsteady feet. The other elfs all have a special talent making unique toys. All but Tinycandy. The other elfs are so mean and say hurtful things, they are jealous because they think he is Santa's best friend. Tinycandy isn't a good toy maker and just wants to fit in. Mrs. Claus takes him to the kitchen where he make a sweet treat. He made this in the shape of his cane and the colors of red and white for what Santa wears on Christmas night. We call this the Candy Cane.
This is a Wonderful Christmas Story. I really enjoyed reading this book, myself and my children loved this too. This is an ispirational one and really touched my heart. I love how this story show us that we are all different and even having a disability, we can still do great things. This story is written in a fun and ryhming way and all the bright pictures catch the children's attention. I just hope that the message does too.
This is a wonderful Christmas Story to read year after year. You can purchase your own autographed copy
here
I received this complimentary book from Babs Chandrasoma from
PR by the Book, LLC
to review.
My review is my own words and thoughts.
*I was given the opportunity to review this product because of my membership at
The Product Review Place
*
This book is featured in the Book Review Blog Tour