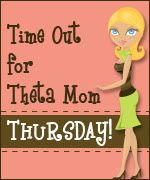 It's Time Out for Theta Mom Thursday! The goal is to grab one hour of time within one week to do whatever you want…without the kids. It's such an amazing proposition, I know so I thought I would join in. This is my second time and I think I will be trying to do this every week. I really like the concept and everyone participating is so nice :)
I spent an hour (well actually more) this week with the hubby. He took me to lunch for running errands with him. So, I had to ride around and spend some time with him just to get a good lunch. I guess he knows how to bribe me. (LOL) He had to stop here and there and while he was in one place for around 15-30 minutes I even got in a cat nap. It wasn't so bad. The only thing disappointing was I wasn't home to spend time cleaning. Oh darn!!
I also am taking time out each week to go to physical therapy to help my shoulder and back out. Today, while I had to sit with this cold pack pulsating my shoulder for around 15 minutes I actually relaxed and almost fell alseep. Too bad, it wasn't longer.
I'm hoping that I will have some more fun and interesting ways to spend my hour next week.