Since my son has been in 1st grade, he always has a spelling test weekly. As the time goes on, the words get harder and getting my son to study spelling can sometimes be a struggle.
SpellQuizzer
is a spelling software that can help make studing spelling easier and much more fun.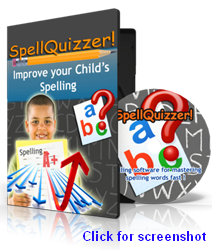 This
Spelling Software
is pretty simple to use. You can master your spelling list quickly with this program. You can use the sample lists or create your own. For us, my son or I can put in his weekly spelling words. I type them in and then say the word to be recorded. Then he can take the test and check his answers. If you spell the word wrong then you can try to spell it correctly for a second time. This really is pretty easy. It's simple enough that my son can do this himself. I have found that using this spelling program, he seems to have more interest and fun spelling.
You can purchase SpellQuizzer for $29.95, which is a great deal. Not so sure about this... No Worries, You can
download a free trial
.
*Disclosure: This is a
MamaBuzz
review, check out what the others are saying and enter for your chance to win a free spellquizzer software. I received a software license for SpellQuizzer, free of charge, from Dan Hite, for the purpose of this review. This is my honest thoughts and opinion.