Giveaway now closed. Congrats to sohamolina!
Thanks to the
Supermarket Guru
, Phil Lempert and
ConAgra Foods
, I'm helping to share some tips on how to "Green Over" your St. Patrick's Day meals. From Leprechaun Cereal to Patrick's Pudding, Phil Lempert provides great insight on how to spruce up your St. Patty's Day grub from morning until night, the quick and easy way!
YOUR GREEN-OVER TOOL – Head to your local supermarket and buy a one ounce package of liquid green food coloring.
McCormick
has a special "Green" one-ounce package that is recommended. Remember – a little coloring goes a long way so just using one or two drops may be enough for each of the "green recipe ideas" that follow. Also, lighter foods (like bread, milk, popcorn and pasta) the better and brighter the color green becomes.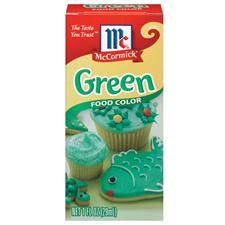 Start by adding a dash of color! It's easy being green when you add this food color to your favorite treats especially for St. Patrick's Day.
BREAKFAST
~Lucky Leprechaun Cereal: Serve up a portion of Lucky Charms cereal and add a couple drops of green food coloring to the milk to get those Leprechauns started (both the milk in the glass and in cereal)!
~Green Morning: For the adults in the family, add 2 or 3 drops of coloring to Egg Beaters to whip up a green omelet, and load the insides with green peppers, broccoli and scallions. If you are really adventurous, bake your own green bread by just dropping two drops in the bread mix. Also, try adding a couple drops to whipped cream cheese – stir thoroughly and serve on toast or a bagel.
~Green No No's: Forget about adding the green milk to your coffee; this will just result in a cup that looks like a cross between mold and moss.
LUNCH
~Pack It Up Green: Load up your children's lunch boxes with lots of green – everything from celery sticks, green juice (try coloring a light colored apple juice), and green cheese (a light colored cheese is recommended here as well).
~Shamrock that Sandwich: Put a slice of Swiss, mozzarella, white colored cheddar or Monterey jack on top of ham or other sandwich meats. If you prefer vegetarian, try Light Life Smart Deli Turkey, Bologna or Ham varieties. Before you close up the sandwich, take a clean new paint brush and add a few drops of food coloring in a saucer. Paint a shamrock, smiley face, or even your child's name on the top of the cheese. Let it dry, then leave the top slice of the bread off and saran wrap the sandwich for a surprise when they open their lunch box!
~Patrick's Pudding: For a fun and colorful afterschool snack, drizzle 1 or 2 drops of green food coloring over
Snack Packs Vanilla pudding
. For those with an extra sweet tooth, add a touch of Reddi Whip with a handful of green sprinkles.
DINNER
~Pasta Verde: It's all about the pasta! After you cook your spaghetti, rigatoni or even ravioli, rinse the cooked pasta and then BEFORE you add any oil or other sauce, add 3 or 4 drops of food coloring to the pot and mix in with the pasta. For the best visual, put the sauce (of course pesto will be the truest to the celebration) on the plate first, and lay the green pasta on top. Add some green veggies for extra flavor.
~Shamrock Your Sides/A Green Alternative: If pasta isn't your thing, how's chicken or fish? Drizzle 1 drop over your meal. For sides, add 1 or 2 drops of food coloring to mashed potatoes, white rice or a light colored sauce.
These are just a few!!! Be creative and add some Green to your St. Patrick's Day!
I love to make shamrock sugar cookies and green popcorn for my kids for a great snack too.
In honor of St. Patricks's Day one of my lucky readers is going to win a prize pack containing Two McCormick Green Food Coloring and one package of Snack Pack French Vanilla Pudding.
MANDATORY/REQUIRED ENTRY
:
Please leave me a comment telling me how you are going to celebrate St.Patrick's Day or leave me a green tip.
EXTRA ENTRIES:
To receive these extra opportunities for entries, you must fulfill the first REQUIRED entry. But in addition you can:
■Subscribe via e-mail (1 extra entry)
■Follow me via Google friend Connect (1 extra entry)
■Follow me via NetworkedBlog (1 extra entry)
■Add
@Shawnmh
to your Twitter -Leave me your twitter ID (1 extra entries)
■ Tweet this giveaway on Twitter. Be sure to include a link to this contest page (Leave me the link)(1 extra entry/this may be done daily)
■Add my button to your site AND/OR add me to your blog roll.(1 entry for each)
This giveaway is open to US residents only. Please leave a separate comment for each entry.(Please make sure if you are anonymous you leave your email address with your comments.)
This giveaway will end on March 17th at 11:59 pm Est.
The winner will be notified and have 48 hours to respond to my email or another winner will be chosen.
*Disclosure: I will be receiving the same giveaway package as one of my readers for sharing this information. *