Giveaway now closed. Congrats to AstarrA
Penny and Rio: The Diamond Collar Adventure
Written by: Jennifer Swanson
Illustrated by: Swapan Debnath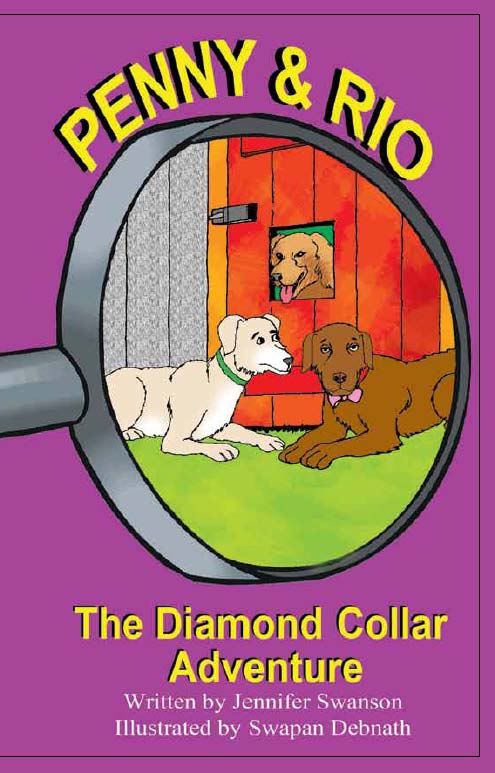 A new adventure! The dynamic canine detectives, Penny and Rio, escape from the backyard for the first time in search of a valuable diamond collar lost by Hannah, the beautiful show dog. During their search for the misplaced treasure, they encounter Ted, the loveable but somewhat clumsy collie, Sarge, the belligerent and forceful German shepherd, and an obstacle of epic proportions. But just when it feels like Penny has reached the end of the adventure, the prize is ripped from her grasp. Solving this new problem will take all the ingenuity and determination these dog detectives can muster.
I've read Jennifer Swanson's two other great Penny & Rio Mystery Adventure Books and I'm so happy to see that she's done it again. This new book of hers is just Great! No wonder-Her Penny & Rio mystery books have won many Awards including the 2009 Mom's Choice Award for Juvenile Fiction-Early Readers and the Dove Foundation's Family Approved Seal. Her books are entertaining and educational. These Award-winning early reader chapter books for ages 6-9 years are perfect for reading aloud or transitioning readers! These cute, soft covered books are perfect for younger readers not quite ready to tackle large chapter books. These Penny & Rio mystery adventure books are found to be a favorite to any reader, especially those who love pets.
After reading the first and second Penny and Rio mysteries, my son and I couldn't wait to read this new one. As in the other Penny & Rio books, the illustrations are colorful, full of expression and have great detail. This book keeps your interest just like the other ones and you can't wait to solve the mystery. My son and I are looking forward to more of these mysteries with Penny and Rio. I think that most younger children would enjoy reading these canine mysteries or enjoy them being read to them. I think that I love reading these stories as much as my son enjoys them. Great Job to Jennifer Swanson for writing such great stories. We can't wait to read more Penny and Rio books!!!
I just wanted to mention that I was really excited when I read my quote ("We can't wait to read more Penny and Rio books"---Shawn's Sharings Book Blogs) on the back cover of this new book. It really made my day. :)
Please visit
PennyandRio.com
for some fun activities including coloring pages, to see an excerpt and watch Penny & Rio come alive in her video trailer. Also included is a Teachers Page and a Homeschoolers Page. Penny and Rio books are great teaching tools and fun to read.
These Books can now be purchased for $7.99 each plus s/h.
Visit
PennyandRio.com
to purchase a signed copy.
Or You can Win it!!
Jennifer Swanson (the Author) has generously offered One of my lucky readers an autographed copy of her Penny & Rio: The Diamond Collar Adventure Mystery Book
MANDATORY/REQUIRED ENTRY
:
Visit
PennyandRio.com
and leave me a Comment telling me which Dog your pet is most like. (If you don't own a dog-please tell me which dog is your favorite)
EXTRA ENTRIES:
To receive these extra opportunities for entries, you must fulfill the first REQUIRED entry. But in addition you can:
■Subscribe via e-mail (1 extra entry)
■Add
@Shawnmh
to your Twitter -Leave me your twitter ID (1 extra entry)
■Add
@JenSwanBooks
to your Twitter -Leave your twitter ID (1 extra entry)
■ Tweet this giveaway on Twitter. Be sure to include a link to this contest page (Leave me the link)(1 extra entry/this may be done daily)
■Add my button to your site AND/OR add me to your blog roll.(1 entry for each)
■Blog about this contest: Add a link to this post (5 extra entries)
■Follow
Penny & Rio Mysteries
on Facebook (2 extra entries)
This giveaway is open to US residents only. Please leave a separate comment for each entry.(Please make sure if you are anonymous you leave your email address with your comments.)
This giveaway will end on September 1st at 11:59 pm Est
. The winner will be notified and have 48 hours to respond to my email or another winner will be chosen.
To celebrate the Third book in the Award Winning Series Jennifer Swanson is running a contest in conjunction with the release of this book.
Create a jeweled collar for your dog and you could win Great Prizes including $50 GC to Barnes and Noble.com, Autographed Book Copies and more. For more information about the contest, please see
www.pennyandrio.com/contest
.
*Disclosure: I received this book for free for review purposes. These are my honest thoughts and opinions.*