Originally created in France, the
Robby Wash laundry ball
is now in the U.S. Yeah!!! You will want to know more about this product. This will help make laundry easier, greener and save you money!
The
Robby Wash blue laundry ball
pack is designed to be used in both cold and hot water for 12 months on average with softness and colors maintained. Does not require any additional detergent to clean clothes or odor removal detergents to get your laundry smelling fresh. Works with both front load and top load washing machines. The pack includes the blue washing ball, a stain stick and three extra packets of macro-molecule pellets. Use the blue washing ball for high temperatures (32-180ºF).
For advanced cleaning on dark clothes they also offer a fuchsia wash ball. Use the fuschia ball for low temperature loads (32-90ºF. Maintains softness in your laundry while removing odors and stains.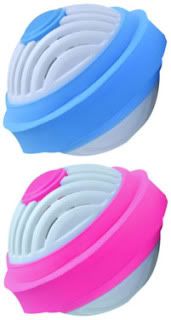 Simple to Use
...
Just put it in the wash. The Robby wash ball is an ultra high efficiency laundry solution with no need to add any detergent. Makes doing the laundry very easy and saves you the hassle of lugging home large containers of laundry detergent and cleaning up if you spill when adding detergent to your washer. Refill ball when level of maco-molecule pellets is less than 75% full.
Saves You Money
... No need to buy washing powder, a savings of up to $100+ over 200 washes. 10 ounces of macromolecules are equivalent to more than 1200 ounces of powder detergent. 120 washes with pack. The reusable ball can be used for 2-3 years.
How it works
...
The Robby Wash ball uses a unique and patented worldwide technology to clean your laundry even better than the powder laundry detergents it was independently tested against. Its activated macromolecules are gradually released through the wash, dissolving dried-in stains by generating ions which activate the water molecules. This increase in the pH enables the activated molecules to penetrate deep into the fabrics and attach themselves to the stains. As the motion of the drum agitates the clothes, the stains come away easily from the fabric and dissolve in the water. Of all the systems on the market, Robby Wash's effectiveness is tested, proven and guaranteed.
My Thougths
:
I was skeptical at first! I thought that this would be too good to be true. Well Guess What!... This is Awesome!!! It is so easy to use! Even, my children can help with the laundry and I don't worry that the hubby wastes the laundry soap. He's famous for not measuring the soap out and usually uses more than needed. So, that usually costs me more money than needed. But, also with this ball, I will save alot of money. Of course, I know that depends on how much laundry you do, with result in different savings but all huge savings. Ok.. So it's easy and saves you money, but does it work? Yes... Great!!! I think that my laundry has been coming really clean and smells good too. It cleans and protects your clothes. This is hypoallergenic and great for babies or people with sensitive skin. Also, it has a light scent which makes it better. Of course, you can had fabric softener with this if you want that particular smell. I would highly recommend this product!
You can purchase the Robby Wash Ball for $32.95
here
.
Or Win it!!! One of my lucky readers will get to try this Robby Wash Laundry Ball. MANDATORY/REQUIRED ENTRY:
Please visit
Robby Wash Ball
and tell me your favorite feature.
EXTRA ENTRIES:
To receive these extra opportunities for entries, you must fulfill the first REQUIRED entry. But in addition you can:
■Subscribe via e-mail (1 extra entry)
■Follow me via Google friend Connect (1 extra entry)
■Add @
Shawnmh
to your Twitter -Leave me your twitter ID (1 extra entries)
■ Tweet this giveaway on Twitter. Be sure to include a link to this contest page (Leave me the link)(1 extra entry/this may be done daily)
■Add my button to your site AND/OR add me to your blog roll.(1 entry for each)
■Blog about this contest: Add a link to this post (5 extra entries)
This giveaway is open to US only. Please leave a separate comment for each entry.(Please make sure if you are anonymous you leave your email address with your comments.)
This giveaway will end on March 6th at 11:59 pm Est. The winners will be notified and have 48 hours to respond to my email or another winner will be chosen.
**Disclosure- I received the blue Robby Wash Ball for the purpose of this review. This is my honest thougths and opinions.*