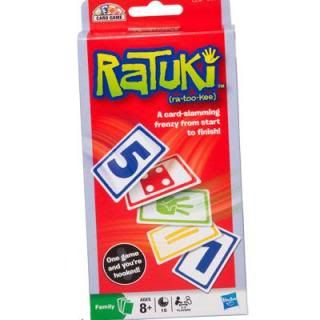 Ratuki
by
Hasbro
!
Its easy to play, fun to win and totally addictive! Build piles of cards from 1 to 5, but watch out: its a card-slamming frenzy! Be the first to slam a 5 on the top of the deck, shout 'Ratuki!' and the cards are yours. Get slamming and get winning!
Includes 170 cards, 5 reminder cards and instructions. For 2 to 5 players. Ages 8 and up.
My thoughts:
This game is so easy to learn and so much fun to play! Recommended for 8 year olds and up, but younger kids may even enjoy playing this card game. They could modify it and play it there own way. This game plays pretty fast and once you get the hang of it, You will get hooked! This game can only be played with 5 players, but anymore than that would be too crazy. This game, is alittle different than some, because you don't take turns, you need to stay awake and be fast. Players will feel a rush of excitement as they try to be the first to slam down their cards and collect the most cards in the group. We have had alot of fun playing this! Kids and parents alike will enjoy this game. Ratuki would make a great gift. I would highly recommend it!