LASTINGNESS
By Nicholas Delbanco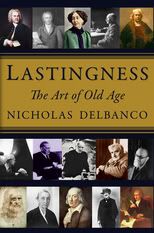 About the Book:
America grows older yet stays focused on its young. Whatever hill we try to climb, we're "over" it by fifty and should that hill involve entertainment or athletics we're finished long before. But if younger is better, it doesn't appear that youngest is best: we want our teachers, doctors, generals, and presidents to have reached a certain age. In context after context and contest after contest, we're more than a little conflicted about elders of the tribe; when is it right to honor them, and when to say "step aside"?
In LASTINGNESS, Nicholas Delbanco, one of America's most celebrated men of letters, profiles great geniuses in the fields of visual art, literature, and music-Monet, Verdi, O'Keeffe, Yeats, among others - searching for the answers to why some artists' work diminishes with age, while others' reaches its peak. Both an intellectual inquiry into the essence of aging and creativity and a personal journey of discovery, this is a brilliant exploration of what determines what one needs to do to keep the habits of creation and achievement alive.
About the Author:
Nicholas Delbanco has published twenty-four books of fiction and non-fiction. His most recent novels are The Count of Concord and Spring and Fall; his most recent works of non-fiction are The Countess of Stanlein Restored and The Lost Suitcase: Reflections on the Literary Life. As editor he has compiled the work of, among others, John Gardner and Bernard Malamud. Director of the Hopwood Awards Program at the University of Michigan, he has served as Chair of the Fiction Panel for the National Book Awards, received a Guggenheim Fellowship and, twice, a National Endowment for the Arts Writing Fellowship.
My Thoughts:
I think this book is interesting, seeing that we all should go through the aging process. I remember when I was younger, thinking that a certain age was old, then as I approach that age, I don't feel that way anymore. This book isn't just about the aging process, but more about creating art in the older years. I liked the stories about the people studied in this book, although I'm not sure that everyone is going to feel the same.
The book sells for $24.99 and you can purchase it at the
Hatchette Book Group
.
Or Win it!!! The Hatchette Book Group has offered two of my lucky readers a copy of the book Lastingness.MANDATORY/REQUIRED ENTRY
:
Please leave me a comment telling me your thoughts on the aging process is.
EXTRA ENTRIES:
To receive these extra opportunities for entries, you must fulfill the first REQUIRED entry. But in addition you can:
■Subscribe via e-mail (1 extra entry)
■Follow me via Google friend Connect (1 extra entry)
■Add
@Shawnmh
to your Twitter -Leave me your twitter ID (1 extra entries)
■ Tweet this giveaway on Twitter. Be sure to include a link to this contest page (Leave me the link)(1 extra entry/this may be done daily)
■Add my button to your site AND/OR add me to your blog roll.(1 entry for each)
■Blog about this contest: Add a link to this post (5 extra entries)
This giveaway is open to US and Canada residents only. Please leave a separate comment for each entry.(Please make sure if you are anonymous you leave your email address with your comments.)
This giveaway will end on March 9th at 11:59 pm Est.
The winners will be notified and have 48 hours to respond to my email or another winner will be chosen.
*Winners will be subject to the one copy per househould rule,which means that if you win the same title in two or more contests ,you will only receive one copy of the title(or set in case of grouped giveaways)in the mail from the Hatchette Book Group.*
**Disclosure: I received this book free of charge from the Hatchette Book Group for the purpose of this review. This is my honest thoughts and opinion.**