God Gave Us the World
By Lisa Tawn Bergren
Art by Laura J. Bryant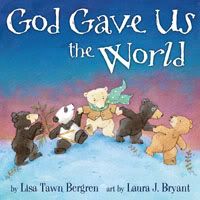 About The Book:
Little Cub's trip to a special museum exhibit, "Bears Around the World," sparks a flurry of questions from the young polar bear who is just beginning to learn about life beyond her North Pole home.
As Mama Bear shares with her about the different types of places that God has put the various types of bears, with their different kinds of fur and food, Little Cub begins to wonder: Why didn't God make us all the same?
With Mama's loving guidance, Little Cub is taught to see the vastness of God's wonderful creation; His abilities as an amazing, inventive Creator; His desire for us to care for our world, and especially the important lesson that…
"Every bear has a special place in God's great, big world."
This adorable story offers young children who are discovering their place in God's big world an opportunity to learn about the wonder of diversity, the gift of creativity, the importance of caring for His gifts, and how each child-each creation-is special to God.
My Thoughts:
This is a great book for preschool and early elementary school aged children. This would be a great book for Kindergarten Religion Education classes to read and discuss. They can even download
coloring pages
to go along with these lessons.
This story has such cute and colorful pictures that will keep the little ones attention. This story is cute and teaches the children about diversity. The bears in this story are all different types and come from differnet places around the world. They eat different things and like to do different activities, just like our children and their friends. This story is cute and the lessons taught are easy to pick up on. This is just one of the great books in this series.
You can purchase God Gave Us the World for $10.99 from
Waterbrook Multnomah Publishing Group
Also Available:
God Gave Us You
God Gave Us Two
God Gave Us Christmas
God Gave Us Heaven
God Gave Us Love
God Gave Us So Much – a limited three book treasury
For more on the Author and to enter one of her contests, please visit
Lisa Tawn Bergren
.
*Disclosure: I received a copy of this book, free of charge, from Waterbrook Multnomah Publishing Group, for the purpose of this review. This is my honest thougths and opinions.*
This is
MamaBuzz Review
, check out what the others are saying about this book.