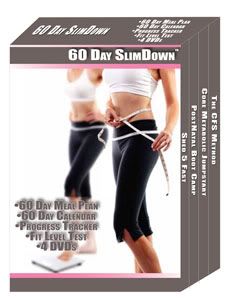 My New Years Resolution is for a Healthy Me!! This includes eating healthy and exercise. My goal is to get my body back!! I know this will include eating healthy, (which will be a lifestyle -not a diet) and exercise. I'm really looking forward to toning my body and looking great. I know it's not going to be easy but I can do it with the help of
Lindsay Brin's 60 Day SlimDown System
.
The
60 Day SlimDown system
has everything you need to get your body back, including 4fitness DVDs and a downloadable slim packet including a fitness calendar, a Progress tracker, and a 3-phase meal plan.
This Cutting Edge System is designed to boost your metabolism and have the pounds melting off within the first 10 days. Included in this 60 Day slimDown system is over 22 Workouts on 4 DVDs!
Each DVD will challenge your body in a different way with so many workouts your body will continue to get leaner and leaner.
Postnatal Boot Camp
will have you doing Intense Interval Training to jump start that body! In the
CFS Method DVD
you will train your core to fire from the inside-out, creating ab muscles that work like a Corset. Then
Core Metabolic Jumpstart
will have your metabolism boosting while shredding the core. And
Shed 5 Fast
will melt off the pounds! I had the opportunity to review this DVD before and loved it. (Check out my review
here.)
In 60 days you can super charge your body for the ultimate slimdown. This is done is 3 phases. In Phase 1 all workouts can be done in 30 minutes or less. Then in Phase 2 you will challenge your body even more so you continue to shred your core - and lose even more fat! All in 45 minutes or less. Phase 3 you learn how to see results after the initial 60 Days.
What's great about this program is that you can check your fitness level on Day 1 & Day 60 with the Fitness Test to see your progress. Besides the DVDs included is a downloadable Slimdown Packet that contains a 3-phase meal plan that's easy to follow. You actually get to eat real food that you can prepare for your family. It's really easy to follow and there are many choices, not just gross stuff you won't like. You may choose plan A or B depending on your age and weight. This is just for how much food you can eat. Also, if you are a breast-feeding mom, you can still participate in this great program but will have extra nutrition requirements to follow Also included is a progress tracker and a fitness calender.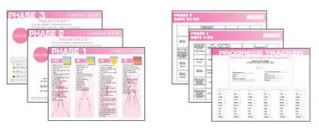 You can purchase the
60 Day SlimDown System
for $49.99 from Moms Into Fitness. Right now Lindsay is also offering my lucky readers a 30% discount on this 4-DVD set, using the coupon code:
60daydvd30
, which
expires on January 31
.
Want to know more about Lindsay Brin? Check out her
blog
and see how she got her body back after two babies and you can follow her pregnancy with baby#3 on the way.
*Disclosure: This is a
MamaBuzz review
. Check out what the others are saying about this 60 Day SlimDown system and enter for your chance to win it. I received the 4-DVD set, free of charge, from Moms Into Fitness, for the purpose of this review. I feel that this program has everything needed to help me get my body back and tone up. I have just started this program and don't have any results at this time. This is my honest thoughts and opinion.*