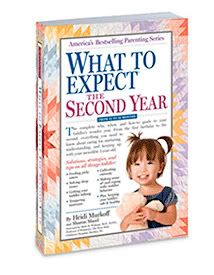 Heidi Murkoff's
What to Expect
has delivered again. Announcing the arrival of a brand-new member of the What to Expect family: What to Expect the Second Year. The essential sequel to What to Expect the First Year, with 9.7 million copies in print, What to Expect the Second Year picks up the action at baby's first birthday, and takes parents through what can only be called "the wonder year"—12 jam-packed (and jam-smeared) months of memorable milestones (from first steps to first words, first scribbles to first friends), lightning-speed learning, endless explorations driven by insatiable curiosity. Not to mention a year of challenges, both for toddlers and the parents who love them, but don't always love their behaviors (picky eating, negativity, separation anxiety, bedtime battles, biting, and tantrums).
Comprehensive, reassuring, empathetic, realistic, and practical, What to Expect the Second Year is filled with solutions, strategies, and plenty of parental pep talks. It helps parents decode the fascinating, complicated, sometimes maddening, always adorable little person last year's baby has become.
From the first birthday to the second, this must-have book covers everything parents need to know in an easy-to-access, topic-by-topic format, with chapters on growth, feeding, sleeping, behaviors of every conceivable kind, discipline (including teaching right from wrong), and keeping a toddler healthy and safe as he or she takes on the world. There's a developmental time line of the second year plus special "milestone" boxes throughout that help parents keep track of their toddler's development. Thinking of traveling with tot in tow? There's a chapter for that, too.
I remember reading "What to Expect When You're Expecting", when I was pregnant and I loved this book. I read it many times and it was so helpful. I would recommend it to any expecting parent. Being a new parent, raises many questions from the minute you find out you are going to be a parent right up until your children are grown. I wish there was a What to Expect for the Teen years to help me with my moody daughter. I would've found this What to Expect the Second Year book very helpful too. I wish that Heidi would have published this book back when my children were younger. I know this must have book will be a Big Hit for any new parent.
Good news!!! One of my lucky readers can win this book along with a Gift Box filled with great products worth over $150.
WHAT TO EXPECT, THE SECOND YEAR GIFT BOX includes:
What to Expect the Second Year book by Heidi Murkoff, $24.95
What to Expect, Stainless Steel Water Bottle, premium item/not available at retail
Tommee Tippee Explora Cup, 9m+ - $8.99
PediPed Originals 12-18 mos. - $32.00
Johnson's Baby Bubble Bath & Wash 15 oz - $4.29
Summer Infant Swaddle Me 7-14 lbs - $12
Totsy coupon - $15 credit
NUK Active Cup: $6.79
NUK TrendLine pacifier sz2, 2pk: $4.79
Hallmark Recordable Storybooks - $29.99
Playtex Lil Gripper Spout Cup - $15.00
MANDATORY/REQUIRED ENTRY:
Please visit
What To Expect
and leave me a comment telling something you like about this website or another product not mentioned that you would like.
EXTRA ENTRIES:
To receive these extra opportunities for entries, you must fulfill the first REQUIRED entry. But in addition you can:
■Subscribe via e-mail (1 extra entry)
■Follow me via Google friend Connect (1 extra entry)
■Follow me via NetworkedBlog (1 extra entry)
■Add
@Shawnmh
to your Twitter -Leave me your twitter ID (1 extra entry)
■Add
@What to Expect
to your Twitter -Leave me your twitter ID (1 extra entry)
■ Tweet this giveaway on Twitter. Be sure to include a link to this contest page (Leave me the link)(1 extra entry/this may be done daily)
■Add my button to your site AND/OR add me to your blog roll.(1 entry for each)
■ Like What To Expect on
facebook
(2 extra entries)
■Blog about this contest: Add a link to this post (5 extra entries)
The contest is open to US residents only. Please leave a separate comment for each entry.
This giveaway will end on
July 2nd
at 11:59 pm Est. The winner will be notified and have 48 hours to respond to my email or another winner will be chosen.
*Disclosure: I received this gift box mentioned above to giveaway to one of my lucky readers, Thanks to What to Expect.*