Although, my children still have three more weeks of school, I know we are all looking forward to Summer Vacation. I want my children to have lots of fun this summer! We have some family activities planned but I feel it is important for them to continue with the socialization and learning that school provides them. That's why I think it is great to send your kids to Summer Camp.

KinderCare Summer Camp
makes the most fun time of the year even better. They have 12 unique and fun camps for pre-school and school-age kids running from May through August.
Take a look at what we have to offer this summer:
~Wilderness 101
~Dig Ancient Egypt
~Wild, Wild West
~Scienterrific
~Spectacular Sports
~Animal Antics
~Gross and Gooey Science
~Kids' Kitchen
~Sports Smarts
~Art Expo
~Splish Splash!
~Feats of Science ™ K'NEX® Motion Machines
To give you a taste of what to expect at the Kids' Kitchen camp, check out this sample activity!
Vegetable Wraps
Ingredients (makes 4 servings):
2/3 cup cream cheese, softened
1 bag of sprouts from Growing Sprouts
1 ½ cups fresh carrots
1 red bell pepper
1 cup cucumber
1 cup shredded cheddar cheese
1 cup canned or frozen corn (thawed,if necessary)
1 cup frozen edamame, thawed
4 flour tortillas
Directions
~Clean and sanitize a counter or table in your kitchen.
~Wash the carrots, pepper, and cucumber.
~Grate the carrots into a bowl.
~Thinly slice the pepper and cucumber and place them in separate bowls.
~Place the corn, edamame, and shredded cheese in separate bowls.
~Place a serving spoon in each bowl.
~Place the cream cheese, bag of sprouts, bowls of vegetables, bowl of cheddar cheese, tortillas, measuring cups, and measuring spoons .
~Spread cream cheese on your tortilla.
~Place vegetables and cheese in a row down the center of your tortilla.
~Top their vegetables with shredded cheese and sprouts.
~Roll up your tortillas as tightly as possible to keep the vegetables inside.
~Use a knife to cut the wraps in half.
Visit
KinderCare Summer Camp
for more information and to reserve your spot.
KinderCare, the nation's largest private provider of early childhood education, asked 1,000 parents across the U.S. about plans for their preschooler's summer. Day camps earn a top place on families' must-do list, with parents of preschoolers confirming that they want kids' bodies and minds to stay active. Below, you'll see key findings from their 2011 survey.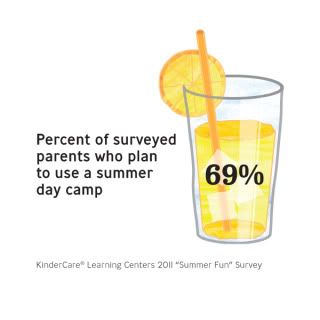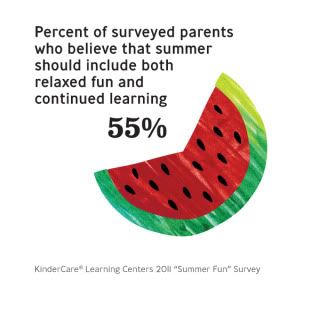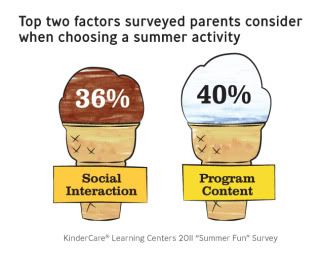 Disclosure: Thanks to KinderCare and Mom Select, my son will be receiving a complimentary week of summer camp.