If you had a chance to check out my review for TheraBreath's Toothpaste and Mouth Wash (a while back) then You would know how much I love these products. If you have
bad breath
, then you will want to use these products. They work great!!!
TheraBreath Multi Symptom Probiotic
is the only product developed to actively attack the bacteria that is responsible for tooth decay, cavities, acid erosion, bleeding and sensitive gums, plaque, tooth staining, and other germ-related oral care maladies. It actively attacks hostile germs and keeps them from being able to affect your teeth, throat, and mouth. Unlike repurposed gut probiotics, their patented 'bugs' were developed specifically for colonizing the tongue, mouth, and throat.
TheraBreath BLIS K-12 and BLIS M-18 probiotics are the only oral care probiotics clinically proven to attack common oral cavity germs.
BLIS probiotics are the next generation of probiotic actives - they not only compete for resources that germs crave, but also actively produce enzymes that are deadly to germs responsible for many oral cavity problems. Current products on the market work by simply trying to compete for food with hostile germs and are not efficacious.
TheraBreath Multi Symptom Probiotics have an amazing list of benefits!
These benefits are only found in these BLIS probiotics, not in generic probiotics currently on the market, and are of immense benefit to consumers. This product will eliminate many common oral care problems you currently have to deal with.
Studies show that S. Salivarius M18 + K12 help support the body's ability to protect itself against:
■Cavities ■Bad Breath ■Plaque ■Sensitive Teeth
■Bio ■FilmGum Problems ■Tooth Stains ■Sore Throats Ear Aches
I received this new product to try out. It's really easy to use and has so many benefits!
TheraBreath Oral Care Multi Symptom Probiotic
is a 7 day oral care home treatment system. It includes a small tube of TheraBreath toothpaste and 9 packages of the probiotic. The probiotic treatment is really easy to use. On day one and day seven, just brush your teeth with the included TheraBreath toothpaste and use the probiotic both in the morning and the evening. On day two through six, you just need to brush your teeth and use the probiotic in the morning. The probiotic is pretty simple to use. You just need to add the dry mixture with a couple ounces of water. You only need enough for two mouthfuls. Then swish the first mouthful around for a minute and spit it out. Then gargle the second mouthful. When mixed up, it has a slight citrus taste and is really easy to use. I like the benefits you get from using this.
A Great Price too! TheraBreath Multi-Symptom ProBiotics sell for $28.00.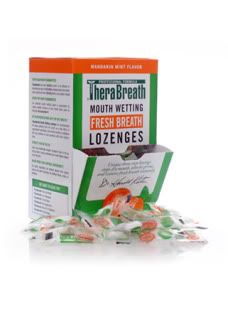 TheraBreath Mouth Wetting Lozenges
are unlike any breath mint you have ever tried. They work in three distinct stages to make sure your mouth is fresh, moist, and healthy. This three stage approach is not only unique, but incredibly effective at controlling bad breath odor.
Stage 1 uses a pleasant citrus mint formula to quickly eliminate any unpleasant flavors or odors in your mouth.
Stage 2 uses the power of Zinc, Oxygen, and Xylitol - clinical strength active ingredients -to attack the germs that cause bad breath.
Stage 3 introduces their proprietary salivary agent to eliminate dry mouth and stimulate your body to produce saliva, a powerful germ fighting agent.
I love these mints. They have a good taste and really help you get rid of that dry mouth feeling. These mints are individually wrapped for convienance and easily will fit in your pockets or purse.
You can purchase Therabreath
online
, at Walgreens and Walmart.
TheraBreath Mouth Wetting Lozenges sell for $13.00 for 100 individual wrapped mints.
Or Win it!!! One of my lucky readers will get 1 box of TheraBreath Mouth Wetting Lozenges.
MANDATORY/REQUIRED ENTRY
:
Please Visit
www.TheraBreath.com
and check out all their great products. Please leave me a comment telling me which item you would like to try.
EXTRA ENTRIES:
To receive these extra opportunities for entries, you must fulfill the first REQUIRED entry. But in addition you can:
■Subscribe via e-mail (1 extra entry)
■Follow me via Google friend Connect (1 extra entry)
■Follow me via NetworkedBlog (1 extra entry)
■Add
@Shawnmh
to your Twitter -Leave me your twitter ID (1 extra entries)
■Add
@TheraBreath
to your Twitter -Leave me your twitter ID (1 extra entries)
■Tweet this giveaway on Twitter. Be sure to include a link to this contest page (Leave me the link)(1 extra entry/this may be done daily)
■Add my button to your site AND/OR add me to your blog roll.(1 entry for each)
■Like TheraBreath on
facebook
(2 extra entries)
This giveaway is open to USA only. Please leave a separate comment for each entry.(Please make sure if you are anonymous you leave your email address with your comments.)
This giveaway will end on June 30th at 11:59 pm Est.
The winner will be notified and have 48 hours to respond to my email or another winner will be chosen.
Disclosure: I received this product free of charge for the purpose of this review. This is my honest thougths and opinion.*