Giveaway Now Closed!!! Congrats to Terri P.
WELCOME To BLOGMANIA !
My Blog is
84
of 123
You've arrived at exactly the right time to explore lots of new blogs, all of which, ARE GIVING AWAY A VERY SPECIAL BLOGMANIA GIVEAWAY (
For One Day Only – April 30th)
We've done all the work for you. No hunting or surfing. Each blog will have a number and each new blog link will have a number. These numbers will allow you to keep track of which blogs you've visited and how many are left to visit. Why not take a moment to make a list of blog numbers 1-123 and check off the blogs as you go.
I know you'll want to visit as many blogs today as you can. So, if you see something that interests you on any of our participating blogs, why not bookmark that site. Later, when you have more time, you can discover all its fabulous treasures.
CLICK!CLICK!CLICK!
My Giveaway is a $20 Walmart Gift Card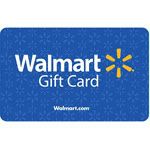 One Simple Rule to Enter:
Please follow me via Google Friend Connect and leave me a comment with your name and email address so I know how to contact you.
Extra Chances:
Subscribe to my blog, Follow
@shawnmh
on twitter, tweet about this giveaway w/included link or grab my button (One extra entry for each)Please leave a seperate comment for each entry.
This Giveaway is Open to US Residents Only. Ends on 4/30 at 11:59 pm est.
CLICK! CLICK! CLICK!
Here are some links for you to find other giveaways through BLOGMANIA!!
If you get lost, please visit Blog 1 for a complete list. HAVE FUN!!
(Blog- 1 – HOST OF BLOGMANIA) Between The Pages -
http://betweenthelinesandmore.blogspot.com/
(Blog -2 – CO-HOST OF BLOGMANIA) The Black Sheep Dances -
http://www.theblacksheepdances.blogspot.com
(Blog-43 - CO-HOST OF BLOGMANIA) Books, Books Everywhere -
http://bookywooks.blogspot.com/
(Blog-14) Living Green in a Colorful World -
http://fatbottombags.blogspot.com
(Blog-31) A Dash of Nutmeg -
http://www.dashofnutmeg.com
(Blog-50) Books and Needlepoint -
http://booksandneedlepoint.blogspot.com
(Blog-69) Book Faery -
http://book-faery.blogspot.com/
(Blog-97) Paranormal Haven -
http://paranormalhaven.blogspot.com/
(Blog-85) Past The Print -
http://www.pasttheprint.blogspot.com/
(Blog-62) Celia Yeary's Blog -
http://celiayeary.blogspot.com/
(Blog-74) Midwestern Gone Idahoan -
http://midwesterngoneidahoan.blogspot.com/
Thank you for stopping by!!! Please enter my other Giveaways and Have a Great Day!!
Hope to see you again...