Giveaway now Closed. Congrats to Colleen
.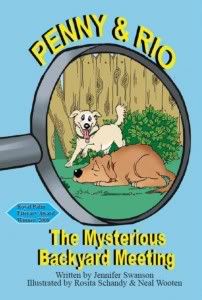 Award-winning early reader chapter books for ages 6-9 years. Perfect for reading aloud or transitioning readers!
Penny and Rio: The Mysterious Backyard Meeting
By Jennifer Swanson
Penny and Rio are two dogs who are complete opposites. Penny is curious and always on the go, while Rio prefers a good nap. At their new house, Penny discovers that their backyard is the meeting place for several different animals. Penny doesn't know why a cat, a groundhog, a squirrel, and an owl could possibly be meeting, but she knows she has to find out. She comes up with an ingenious plan for spying on them and discovers their plot. She has to stop them – but can she get her sister dog, Rio, to help her or will Rio decide that sleep is more important?
My Thoughts:
I know why this is an Award Winning Book! This is a great read!!! This is a perfect transitional book for younger readers not quite ready to tackle large chapter books. I enjoyed reading this book with my son as he enjoyed this too. This story is written from a pets point of view and I think that pet lovers will love this book.
I like how real these two dogs are and Penny and Rio remind me alot of my two dogs. This story seems like an adventure my dogs would have. I don't want to give away what happens in this book or it wouldn't be a mystery for you. What I liked is that this story keeps you interested the whole time and anxious to continue reading to find out what happens next. I think that even younger children would enjoy this story being read to them too and the pictures in this book are bright and full of expression.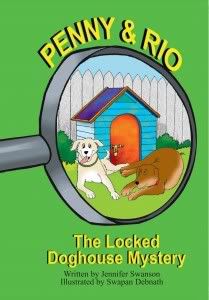 In this second adventure, Penny and Rio must help a poor mouse recover his lost valuables from a locked doghouse. With the help of Hobbes, a Great Dane, and an ingenious plan they just might do it. But can they open the doghouse before it's destroyed?
My Thoughts:
After reading the first Penny and Rio mystery, my son couldn't wait for us to read this one. As in the first book, the pictures are bright, full of expression and great detail. This book keeps your interest just like the first one and wants you to continue reading more. My son and I are looking forward to more of these mysteries with Penny and Rio. I think that most younger children would enjoy reading these canine mysteries or enjoy them being read to them. Great Job to Jennifer Swanson for writing such great stories. We can't wait to read more!!!
Please visit
Penny and Rio's website
for some fun activities including coloring pages and to see an exerpt and watch Penny & Rio come alive in her video trailer.
These Books can now be purchased for $7.99 each or you can purchase a set of Penny and Rio books, both 1&2, for only $15.00 plus s/h.
Visit
PennyandRio.com
to purchase these books.
Or You can Win it!!
Jennifer Swanson (the Author) has generously offered One of my lucky readers to win one of her Penny & Rio books. You have the choice of The Mysterious Backyard Meeting (Book 1) or The Locked Doghouse Mystery (Book 2).
MANDATORY/REQUIRED ENTRY
:
You need to Follow me and leave a Comment telling me which book you would prefer (Book 1 or 2)
EXTRA ENTRIES:
To receive these extra opportunities for entries, you must fulfill the first REQUIRED entry. But in addition you can:
■Subscribe via e-mail (1 extra entry)
■Add
@Shawnmh
to your Twitter -Leave me your twitter ID (1 extra entry)
■Add
@JenSwanBooks
to your Twitter -Leave your twitter ID (1 extra entry)
■ Tweet this giveaway on Twitter. Be sure to include a link to this contest page (Leave me the link)(1 extra entry/this may be done daily)
■Add my button to your site AND/OR add me to your blog roll.(1 entry for each)
■Blog about this contest: Add a link to this post (5 extra entries)
■Follow
Penny & Rio Mysteries
on Facebook (2 extra entries)
This giveaway is open to US residents only. Please leave a seperate comment for each entry.(Please make sure if you are anonymous you leave your email address with your comments.)
This giveaway will end on May 14th at 11:59 pm Est
. The winner will be notified and have 48 hours to respond to my email or another winner will be choosen.
*Disclosure: I received these books for free for review purposes. This is my honest thoughts and opinions.*