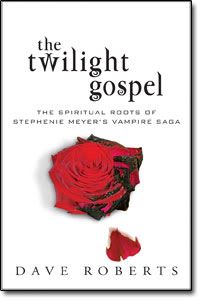 The Twilight Gospel:The Spiritual Roots of the Stephanie Meyer Vampire Saga!
Author:Dave Roberts
About the Author
:
Dave Roberts is the author of the best-selling The Toronto Blessing and Red Moon Rising with joint sales in excess of 100,000. He is a former editor of Christianity and won awards for his work on Renewal magazine. He is a local church pastor and conference director for three major annual conferences on worship, children's ministry, and women's ministry.
About the Book:
The blockbuster Twilight Saga is being read by teenager and adult alike. These powerful novels are getting even more popular as the movies hit the theaters. Crisply written and with a gracious spirit, The Twilight Gospel will help teens, their parents, and their pastors discern what is good from what is unhealthy in the novels and equip them to be biblically literate readers.
From the back cover:
With these powerful novels getting even more popular as the movies hit the cinemas, the call for a Christian response is strong. What values and ideas do Meyer's novels promote? What is good about them, and what deserves closer inspection?
The spirituality and worldview of the Twilight Saga are fascinating, but they do not sit easily with orthodox Christianity. This book carefully and graciously assesses what is praiseworthy and what is less so. It helps the reader to think more clearly about issues to do with occult spirits, life after death, myths and legends, sexuality, personal spiritual power, the culture of glamour and the lure of materialism. All these subjects are woven into the fabric of the Twilight Saga.
The central point of the book is to help teens (and their parents) discern what is excellent from what is unhealthy, helping to create robust, shrewd, and literate young adults.
Endorsements:
'Millions of young minds are being shaped by the Twilight Saga. Dave Roberts offers valuable cultural and biblical insights - neither reactionary nor reticent - for anyone seeking to separate the good, the bad and the ugly in these powerful books.'
-Pete Greig, author of Red Moon Rising, God on Mute and Punk Monk.
My Thoughts:
Having a young daughter that wanted to read the Twilight Series, I was interested to learn more about these books. I would suggest that the parents of tweens read this book before they let their children read Stephanie Meyer's Twilight series. Then they can decide if they think that their young ones should be reading the Twilight Series or shouldn't be. This book was an easy read and is a great resource. This gives you so much information from a Christian viewpoint but with an open minded approach. David breaks down Stephanie's books and shows you the spiritual side of things. He tells you what your child may get out of these books that are not the best influence while also finding what these stories have in positive nature. This is a good resource for parents and after reading this book, I think my daughter is still too young to read the Twilight Series. I'm glad that I read this first and there are some areas and topics that I would like to discuss with my daughter when she is mature enough before she reads the Twilight Series.
See what others are saying about this book by clicking
here
.
**CONTEST**
Want to be entered to win a $50 gift certificate to
Amazon.com
?
TWEET THIS
: Understand cultural and Biblical insights surrounding The Twilight Saga by reading #TheTwilightGospel. Please RT! http://ow.ly/1vjc6
*Disclosure:This book was provided free for review purposes by LitFuse Group*