Giveaway Closed! Congrats to Colleen!
As a Purex Insider, I was given the opportunity to review the Purex Complete Crystals Softener and Jockey Tech Terry Sports Bra.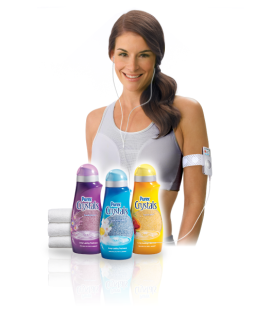 You're probably wondering, "What's the relationship between these two products?" Well, Here's the scoop... Purex Crystals are 92% natural crystals that infuse long-lasting freshness into the fabric fibers of clothing – without harming garments (like liquid softener products that use oils to soften).
This is especially important for activewear like
Jockey's sports bras
, as liquid softeners can harm active wear's moisture wicking ability. Additionally, Purex Crystals work to create a continuous long-lasting freshness, eliminating that all-too-common odor that gets embedded in workout clothing. We all know that smell which isn't too pleasant.
The 2012
Jockey
Tech Terry Performance Sports Bra features:
~ Moisture-wicking which helps to keep you cool and dry
~ Convenient key pocket so you can take your workout anywhere
~ Reflective logo at the back
~ Breathable mesh panels
~ Soft bottom band for comfortable support
~ Outer fabric content is 93% polyester & 7% spandex
~ Lining is 94% polyester & 6% spandex
My daughter snagged this... Since she has basketball practice everyday after school, I thought she would be able to help me with this review. She said that the Jockey sports bras was very comfortable and had the support she needed. She prefers this one over the other brand sports bras she has.
Purex Complete Crystals Softener
is so easy to use. Just add it directly in the drum with your laundry at the beginning of your wash cycle. This can be used in traditional washing machines and in the front loaders. They look like little bath salts and smell great! I tried the Tropical Splash Crystals and love the scent! My clothes smell clean and fresh for weeks and they feel great too! It works really great for washing my Jockey sports bra, activewear, towels and my children's sleepwear.
In addition, since you add it directly with your laundry, this means no more waiting for the rinse cycle, no messy residual gunk in your washing machine, and no more stains from spilling liquid fabric softener.
Purex Complete Crystals Softener... A purer way to get laundry that smells clean and fresh for weeks.
HOW DOES IT WORKS?...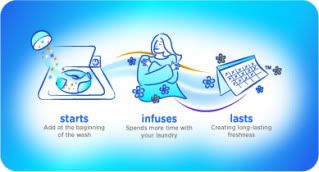 CRYSTALS DISSOLVE INFUSING FABRICS WITH FRESHNESS
Laundry scent lovers will perk up as freshness is infused into clothes with this new fabric softener. Over time, traditional oil-based softeners coat fibers causing harmful oily residue to accumulate. Purex Complete Crystals Softeners penetrate fabrics to reduce fiber entanglement and smooth frayed fibers providing a naturally soft feel.
SAFE FOR ALL LAUNDRY AND BETTER FOR FABRICS...
Do ALL of your laundry—worry free! Purex Complete Crystals Softeners are safe for all laundry and will not harm, wear down or discolor your fabrics like oil-based softeners. Safe for all fabrics, including baby clothes, athletic wear, towels, and whites. Unlike other softeners, Crystals WILL:
• Preserve the flame retardant benefits of your children's clothes
• Retain your athletic wear's wicking ability which draws sweat away from your body
• Maintain your towels' built-in ability to absorb water
• Keep your white clothing from yellowing and graying vs. using traditional softeners
The product won't harm your clothes and is safe and convenient for the entire family!
Purex Complete Crystals Softener is available in three on-trend fragrances:
Fresh Spring Waters , Lavender Blossom , and Tropical Splash.
Purex Complete Crystals Softener is priced from $3.99 to $5.99 depending on retailer and will be available in food, drug and mass retailers nationwide.
Jockey sports bra have moisture wicking technology to keep you dry and your body cool while you workout...and Purex Crystals keep that special technology working.
So, please take advantage of this special offer and you can get
20% off
your next Jockey order.
Win it!!! Purex and Jockey are going to provide one of my lucky readers with a prize pack which includes a package of Tropical Splash Purex Crystals and a Jockey terry sports bra.
MANDATORY/REQUIRED ENTRY
:
Visit
Purex
and leave a Comment telling me which scent you would like to try?
EXTRA ENTRIES:
To receive these extra opportunities for entries, you must fulfill the first REQUIRED entry. But in addition you can:
■Subscribe via e-mail (1 extra entry)
■Follow me via Google friend Connect (2 extra entries)
■Add
@Shawnmh
to your Twitter -Leave me your twitter ID (2 extra entries)
■Add
@Purex
to your Twitter -Leave me your twitter ID (2 extra entries)
■ Tweet this giveaway on Twitter. Be sure to include a link to this contest page (Leave me the link)(1 extra entry/this may be done daily)
■Add my button to your site AND/OR add me to your blog roll.(1 entry for each)
■Like Purex on
facebook
(3 extra entries)
■"Like" me on
facebook
(2 extra entries-leave me your facebook name)
■Blog about this contest: Add a link to this post (5 extra entries)
This giveaway is open to US residents only. Please leave a separate comment for each entry.(Please make sure if you are anonymous you leave your email address with your comments.)
This giveaway will end on January 27th 11:59 pm Est.
The winner will be notified and have 48 hours to respond to my email or another winner will be chosen.
*Disclosure: As a member of the Purex Insiders, I received the products mentioned above free of charge for the purpose of this review. This is my honest thoughts and opinion.*