No Noise. No Batteries. Simply your Imagination!!

RandomLine goal is to encourage creativity in children and adults. An active imagination is important as it exercises the brain, strengthens problem solving skills and provides entertainment. RandomLine's SQUIGGLE series offers drawing and doodling activity pads and games that are perfect for the family, kids, teens and adults.
Squiggle
is a random line. It can be squiggly, wiggly, wavy or just wacky! It's simply the start of something. A squiggle T may blossom into a beautiful flower, speed off into a cool race car or simply form a funny face. It's up to you and your imagination to transform it into a work of art!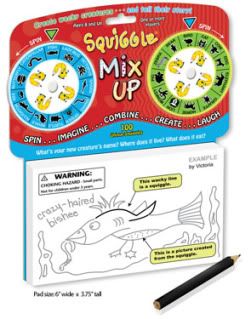 SQUIGGLE Mix Up
is a twister-ific good time where you combine animals and insects to make the funniest, wackiest, most unusual and bizarre creatures! The results are off-the-wall and hilarious! Add a lot of details and give your creature a name!
Spin...Imagine...Combine...Create... Laugh...
Play it alone or with your friends and family.
To play with multiple players: Spin the wheels and take turns adding details to the squiggly line until you created the most unique creature you can imagine. Then give it a name and tell a story about your creature. Where does it live? What does it eat? It's all up to you and your imagination!
Check out my 9 year old son playing this.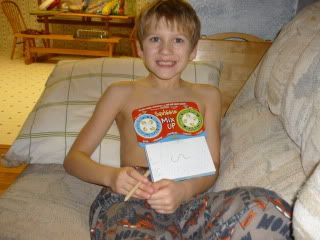 His Creation!
He absolutely loves this!! I love it too. I played this with him and it's so much fun. I like the idea that you have to be creative. You are sure to have a great time playing this. My son spent hours playing this the first time, I actually made him put it up so he could get some sleep. Then the next day, he wanted to play again. The SQUIGGLE games and doodle pads are perfect for travel. This is a great gift idea!!!Buy it for some after school fun or for your family game night.
SQUIGGLE Mix Up is recommended for Ages 8 and Up and is Now available at Barnes & Noble.
Win it!!One of my lucky readers will win the Squiggle Mix Up.
MANDATORY/REQUIRED ENTRY
:
Please visit
Randomline.com
and leave a comment on another game you would like.
EXTRA ENTRIES:
To receive these extra opportunities for entries, you must fulfill the first REQUIRED entry. But in addition you can:
■Follow me via Google Friend Connect (1 extra entry)
■Subscribe via e-mail (1 extra entry)
■Add @
Shawnmh
to your Twitter -Leave me your twitter ID (1 extra entry)
■Add @
RandomLine
to your Twitter -Leave me your twitter ID (1 extra entry)
■ Tweet this giveaway on Twitter. Be sure to include a link to this contest page (Leave me the link)(1 extra entry/this may be done daily)
■Add my button to your site AND/OR add me to your blog roll.(1 entry for each)
■Like RandomLine on
Facebook
(2 extra entries)
■Blog about this contest: Add a link to this post (5 extra entries)
This giveaway is open to US residents only. Please leave a separate comment for each entry.(Please make sure if you are anonymous you leave your email address with your comments.)
This giveaway will end on
December 28th at 11:59 pm Est
. The winner will be notified and have 48 hours to respond to my email or another winner will be chosen.
*Disclosure: I received Squiggle Mix Up for the purpose of this review. This is my honest thougths and opinion.*