This holiday season, Don't forget about your pets! If You are looking for the perfect gift for your furry little friends, check out
Hartz
. They have alot of great toys and treats for your pets.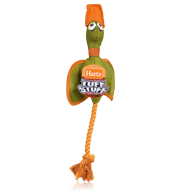 Hartz Nose Divers
soft chew toy and nylon tug toy has been designed to provide exceptional durability. Heavy duty cotton rope runs through the entire product to evenly distribute stress from pulling. Ballistic nylon exterior provides enhanced durability for tough chewers. Available three in eye-catching colors.
Recommended Retail Price: $5.99
I would recommend buying the Hartz Nose Diver as it is very durable. This is a cute duck with a very strong cotton rope running through the length it. The rope is solid and hard, making it perfect for the dog who loves to chew or play tug of war. My two dogs Love this toy!!! It is so cute watching them play with this. Cruizer(our 4 month black lab) and Buddy(our 2yr yellow lab) spend hours playing with this toy. They usually are playing Tug of War- with one dog on each end and each of them pulling and tugging. It has really held up to the test. Usually- by now, their dog toys would be all chewed up and ruined and this one still looks new.(Except for it being alittle soiled because they like to play with indoors and outside too.)This is Cruizer's favorite toy!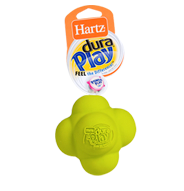 Hartz Dura Play Ball
provides an exciting new chewing experience for dogs. The patented technology combines a latex exterior with a foam-filled interior, making Dura Play dog toys durable, flexible and fun.
Recommended Retail Price: $2.49 for small & $5.29 for medium
My dogs enjoy playing with this ball. With it's multi-dimensional surface, it is fun to throw and have our dogs fetch. Our dogs are Labrador Retrievers and they enjoy us throwing stuff for them to fetch/retrieve. This toy is great for that. It is strong and durable, made to chew on, but yet fun for our dogs to play with too. Our kids enjoy playing with our dogs with this ball as they love to see the reaction from them when this squeaks.
Both of these dog toys are very strong and durable. They sell for a great price and
can be found at most retailers. I think that buying toys for your pets are great, to provide fun and can help them use up some of their energy and provide exercise.
*Disclosure: I received the two Hartz toys mentioned above, free of charge, from Hartz & GolinHarris, for the purpose of this review. This is my honest thoughts and opinion. This is a
MamaBuzz
review and you can see what the others are saying about these products.*