Chiquita Bananas has partnered with NAMCO BANDAI to launch the new Active Life Explorer game for Wii by launching the Explore the Lost City Sweepstakes! It's Super easy to enter and you could be one of the lucky winners.
Check out these great Prizes!
One Grand Prize
Includes: Round trip air transportation for four to the Bahamas, 5 days/4 nights accommodations at The Atlantis, one Adventure Activity, one day gourmet dining, a check for $500, one Wii™ console, one Active Life Explorer™ video game, 4 Chiquita™ Sports Totes, 4 Chiquita® T-shirts, 4 Chiquita™ Sports Bottles and 4Chiquita™ Banana Hangers.
5 First Prizes
Includes: Wii™ console, Active Life Explorer™ video game, Chiquita™ Sports Tote, Chiquita® T-shirt, Chiquita™ Sports Bottle and Chiquita™ Banana Hanger.
25 Second Prizes
Includes the Active Life Explorer™ video game
Enter the
Explore the Lost City Sweepstakes
for a chance to win one of several great prizes.
Guess what? You can even get Ten More Chances to Win! Once you've entered, you can increase your chances of winning by inviting up to 10 friends to participate (one additional entry given for each referred email).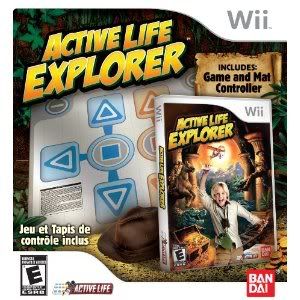 About the Game:
~Active Life Explorer™ is a great new video game adventure for Wii™ where you can run, jump and slide your way through 24 exotic locations in search of treasure. Play alone, with a friend, or let the whole family join in the fun.
~Play with the Wii™ remote or Active Life Mat Controller to step up the action.
~Recommended for ages 6 and older, this game tests skills and enhances endurance, and makes a great gift for the holidays! Available in stores now!(Released in October 2010)
At
ChiquitaBananas.com
you can test your explorer skills in the exciting Gem Catcher Game and also watch the game trailer preview video.
You will want to try out this game. It's a blast!! You can spend many hours playing this game alone or with family or friends. We were lucky enough to receive this game for review and my nine year old son hasn't stopped playing it. He loves this game. It's good exercise and alot of fun. It's kind of like, a cartoon version of "Indiana Jones" with each game a new adventure. You can even dress in costumes for each new game. The best part is that you can actually run and jump on the Active Life Mat Controller (unlike the balance board) or you can use the wii remote. There are 24 games in this one disk and each game was well designed with all the drama and excitement of the adventure. Playing this game is a great way to get exercise and it's so much fun that you don't even realize how active you are.
This game sells for $59.99 in most stores and online.
Great News!! One of my lucky readers can win the new Active Life Explorer Wii Game wi

th the Active Life Mat Controller.
MANDATORY/REQUIRED ENTRY
:
Please visit
Chiquita Bananas.com
and tell me something you like about their website.
EXTRA ENTRIES:
To receive these extra opportunities for entries, you must fulfill the first REQUIRED entry. But in addition you can:
■Enter the Explore the Lost City Sweepstakes (1 extra entry)
■Subscribe via e-mail (1 extra entry)
■Follow me via Google friend Connect (1 extra entry)
■Add
@Shawnmh
to your Twitter -Leave me your twitter ID (1 extra entries)
■ Tweet this giveaway on Twitter. Be sure to include a link to this contest page (Leave me the link)(1 extra entry/this may be done daily)
■Add my button to your site AND/OR add me to your blog roll.(1 entry for each)
■Blog about this contest: Add a link to this post (5 extra entries)
This giveaway is open to US residents only. Please leave a separate comment for each entry.(Please make sure if you are anonymous you leave your email address with your comments.)
This giveaway will end on December 9th at 11:59 pm Est.
The winner will be notified and have 48 hours to respond to my email or another winner will be chosen.
**Disclosure:I received the Active Life Explorer Wii Game free of charge for the purpose of this review and one for the giveaway. This is my honest thoughts and opinion.**