As the Year comes to an end...
It seems like I always make that New Years Resolution... To Loss Weight or Tone Up!!
Well... Party Yourself into Shape with the
Zumba Fitness 2 Wii Game
!!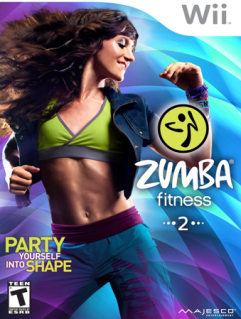 Game Overview:
Four million players and counting have already discovered the exhilarating Zumba® Fitness interactive video game work out. Following the worldwide best-selling original, Zumba® Fitness 2 builds on that phenomenal success while elevating the exer-game category to a new high of fun, effective fitness. This cutting-edge experience layers in loads of new features and improvements, amps up the dance-fitness party and gives you even more ways to sculpt your body and party yourself into shape. Get ready for the sleek, sexy physique you've always dreamed of!
Features:
• Get a total body workout with 32 electrifying new routines and music tracks, including hits from today's hottest artists including Pitbull, Nicole Scherzinger and Yolanda Be Cool & DCup.
• Follow along as celebrity Zumba instructors Tanya Beardsley, Gina Grant and Beto guide you through each routine. New 3D models of each instructor make playing the game feel like taking a real class with Zumba's elite celebrity trio!
• Learn 24 different dance styles across routines, from fan favorites like Merengue, Samba and Cumbia to new additions like Axe, Bollywood, Latin Pop, Ragga and Pasodoble.
• Get in shape with four different game modes:
– Single Song: Dance a single routine of your choice. The new song preview feature gives you a feel for a track before you dive in and lose yourself in the music.
– Full Class: A work-out block of routines in 20, 45 or 60 minute formats. You can now create your own custom routines by saving a playlist of your favorite songs.
– Multiplayer: Up to 4 players can join the party in your living room with cooperative gameplay.
– Learn the Steps: Revamped tutorial mode lets you learn at your own pace by breaking down the core dance styles into the basics.
• Get your party on in 5 stunning, dynamic environments, from a Miami Yacht to a LA nightclub. Watch the party grow as you match moves throughout each area!
• New video cueing system makes the choreography easier to follow for new players.
• New Progress Tracker lets you follow every stat relating to your gameplay, including: calories burned, trophies earned, overall rank, technique score based on how many moves matched overall, and more.
• Approachable gameplay offers a full tutorial mode with Low, Medium and High Intensity routines tiered for all skill levels.
• Affix the exclusive Zumba® Fitness belt (included free in the game box) to your waist and slide the Wii Remote into the holster to dance hands-free.
My Thoughts:
I love it!!!
This game is pretty simple to follow along and great for different skill levels. This is a great fun dance but exercise game to play by yourself or as a group. If you are new to Zumba, no worries... Just follow along with the tutorial to learn the steps in the comfort of your own home. The video cueing system makes the choreography really easy to follow with simple instruction. If you already enjoy zumba, then you should love this game as well.
I love the Progress Tracker which is a great incentive by telling you how many calories you burned. The zumba fitness belt included in the wii game is a great way to dance hands free and makes it more effective and fun. I love the different music tracks and many routines that keeps this game extra fun. What a great way to burn alot of calories and have fun at the same time. I highly recommend this!! I am going to be including this game and healthy eating habits to reach my goal in the New Year.
This game can be purchased at many retailers for around $39.99. It's is selling at
amazon.com
for just $29.99, which is a great deal!! Pick yours up for some great fun... You almost forget it's exercise.
*Disclosure: I received this video game free of charge for the purpose of this review. This is my honest thoughts and opinion.*