An adorably engaging, exciting, entertaining and educational Wisharoo Park is dedicated to promoting positive self-image and self-esteem in preschool age children that is sure to capture the hearts, minds and imaginations of young kids aged three to six years old. It is now rolling out as a dynamic multimedia program which includes the interactive website,
WisharooPark.com
, DVDs, apps for mobile media devices, and much more!
Unique among preschool programs, Wisharoo Park is designed to help children age 3 – 6 recognize and appreciate their individuality. With its groundbreaking technology-based curriculum, Wisharoo Park helps children discover and understand their personal strengths and put them on the road to developing greater self-esteem.
The Wisharoopark.com enchanting online community stars a whimsical cast of loveable animated, puppet and human characters who are featured in games, videos, music and more! Each week exciting new activities and content are added that are sure to keep parents and their kids coming back again and again.

My children are alittle too old for this site,(I wish they were still little because I know they would love it!) as it is perfect for pre-school aged children, but I checked it out and really like it. There are alot of fun activities to keep your young ones busy. There are cool games to play, downloadable printables,puzzles, stories and many other activities. The park pals are just adorable too.
The Wisharoo Park DVDs have 13 original episodes on them that are filled with music, fun and valuable lessons. The Wishstars are really cool and fun to play with as they are finger puppets and you can even name your own.
Check it out!!! I'm sure Your little ones will enjoy these wishstars, DVD's and fun playing on this website.
Win it!!!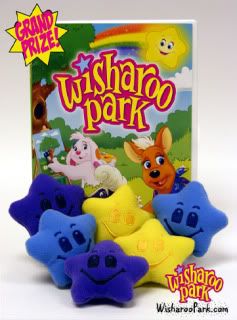 GIVEAWAYS: Three Grand Prize packages each consisting of one Wisharoo Park DVD and six WishStars = a $40 value each plus Three Runner-up Prizes each consisting of three sets of six Wish Star finger puppets = a $20 value each. (Wow! TOTAL VALUE OF GIVEAWAYS is $180)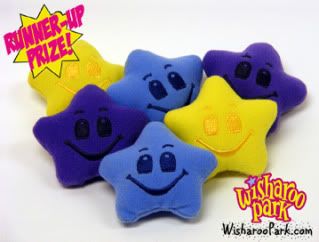 MANDATORY/REQUIRED ENTRY:
Visit the Wisharoo Park website and sign up for the Wisharoo Park Newsletter. Please let me know you did.
EXTRA ENTRIES:
To receive these extra opportunities for entries, you must fulfill the first REQUIRED entry. But in addition you can:

■Subscribe via e-mail (1 extra entry)
■Follow me via Google friend Connect (1 extra entry)
■Follow me via NetworkedBlog (1 extra entry)
■Add @
Shawnmh
to your Twitter -Leave me your twitter ID (1 extra entries)
■Add @
WisharooPark
to your Twitter -Leave me your twitter ID (1 extra entries)
■ Tweet this giveaway on Twitter. Be sure to include a link to this contest page (Leave me the link)(1 extra entry/this may be done daily)
■Add my button to your site AND/OR add me to your blog roll.(1 entry for each)
■"Like" Wisharoo Park on
facebook
& you can get three free songs (a $2.97 value) (3 extra entries)
■Blog about this contest: Add a link to this post (5 extra entries)
This giveaway is open to US residents only. Please leave a separate comment for each entry.(Please make sure if you are anonymous you leave your email address with your comments.)
This giveaway will end on July 28th at 11:59 pm Est
. The winners will be notified and have 48 hours to respond to my email or another winner will be chosen.
*Disclosure- I received the Wisharoo Park DVD and Wish Stars for free for the purpose of this review. This is my honest thoughts and opinion.*