Family schedules ramp up during summer!!! Breakfast is the most important meal of the day and often times we forget to fuel up before tackling the day. As discovered in a new survey from Emerald Nuts Breakfast on the go! - less than 43 percent of Americans eat breakfast on a daily basis. And close to half (41 percent) of breakfast eaters eat their meal on the go at least once a week. While 35 percent have balanced eating while driving and 20 percent have eaten breakfast while getting dressed!
To help those busy parents get through the morning rush and survive a hectic summer day schedule, Emerald Nuts recently launched a new pack and snack breakfast product -
Breakfast on the go!
made with dried fruit, granola clusters and satisfying Emerald Nuts.
Available in three flavors - Berry Nut Blend, Breakfast Nut Blend and S'mores Nut Blend. (They all Taste Great!!!)
Berry Nut Blend (180 calories/serving)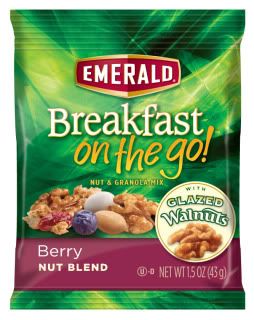 This is my Favorite!!! It tastes Really Good!!! I love the combination of the dried fruit,glazed walnuts, yogurt covered raisins,granola and roasted peanuts. This is the perfect way to get the energy you need to start the day. Or eat it as the perfect snack.
Breakfast Nut Blend (180 calories/serving)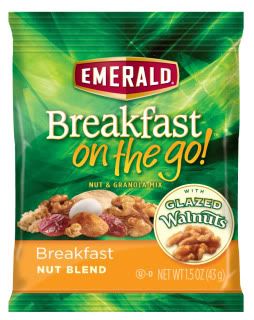 This tastes really Good too!! There is apple cinnamon glazed walnuts, honey roasted peanuts,granola and dried fruit in this perfect snack pack.
S'mores Nut Blend (200 calories/serving)
Enjoy all the flavorful fun of S'mores for breakfast or a quick snack. In this one, there is cocoa roasted almonds, honey roasted peanuts, granola, chocolate candies, marshmallows and coconut. This tastes really good and is a great way to get your chocolate fix in only 200 Calories.
Emerald Breakfast on the go! is the latest in the better-for-you snacks lineup from Diamond Foods. Recently the company launched
www.diamondbettersnacking.com
to help consumers find out more about snacks that fuel an active lifestyle.
Emerald Breakfast on the go are packaged in boxes of five convenient pouches, perfect for on the go snacking. Located in the breakfast isle. For a listing of stores that sell these near you, please visit the stores section on
www.EmeraldNuts.com
. Also, get your $1.00 Coupon.
Or Win it!!! Two of my lucky readers will each win one box of each flavor(3 Boxes Total)
MANDATORY/REQUIRED ENTRY:
Please leave me a comment telling me what you usually eat for breakfast or if you skip it.
EXTRA ENTRIES:
To receive these extra opportunities for entries, you must fulfill the first REQUIRED entry. But in addition you can:

■Subscribe via e-mail (1 extra entry)
■Follow me via Google friend Connect (1 extra entry)
■Follow me via NetworkedBlog (1 extra entry)
■Add @
Shawnmh
to your Twitter -Leave me your twitter ID (1 extra entries)
■ Tweet this giveaway on Twitter. Be sure to include a link to this contest page (Leave me the link)(1 extra entry/this may be done daily)
■Add my button to your site AND/OR add me to your blog roll.(1 entry for each)
■Blog about this contest: Add a link to this post (5 extra entries)
This giveaway is open to US residents only. Please leave a separate comment for each entry.(Please make sure if you are anonymous you leave your email address with your comments.)
This giveaway will end on July 23rd at 11:59 pm Est
. The winner will be notified and have 48 hours to respond to my email or another winner will be chosen.
*Disclosure- I received the Emerald Breakfast on the Go free for the purpose of this review. This is my honest thoughts and opinion.*