About two weeks ago, I had mentioned that I wanted to be Healthier and I was going to try out a new product.
I had visited
Sam's Club
and purchased
Members Mark 4X Probiotic Digestive Care Supplements.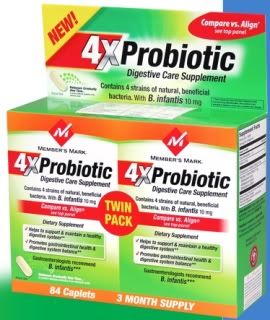 About

Member´s Mark 4X Probiotic

:
This product contains 4 strains of natural beneficial bacteria: Bifidobacterium infantis, Bifidobacterium lactis, Bifidobacterium longum, Bifidobacterium bifidum. When taken daily, this product will help support and maintain a healthy digestive system.

Age,bad diet, stress and other lifestyles can cause pain in your stomach and not be good for your immune system(at least that's what I've been told), so I am hoping that taking this product might help me to be more regular and avoid stomach discomfort.

So did it?

I'm not completely sure...

Taking this probiotic was pretty simple. I just took one pill daily. They are fairly large in size but easy to swallow with water. I did not have any taste issues as I didn't taste it while swallowing the pill or have any aftertaste.


They come in 2 Boxes, each with a 6 week supply. Each weekly pack is labeled with each day printed on them, so you know which days you took them. Again- Simple!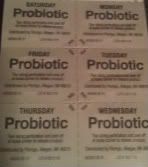 My results may vary from others. The first two days, I didn't notice anything. Then on days 3,4 and 5; I didn't have any stomach pains, but I did have to go to the bathroom more often. I almost was wondering if I wanted to continue using this product. I did continue on for another week, as I was suppose to try this product out for a full two weeks. It did make me more regular, but seemed to have given me more frequent visits to the bathroom. ( Which I guess is normal.) I don't get that bloated feeling as much and I think that is the results of taking this product. I'm not sure if I love this product and would purchase it again, but I do think that it is making me feel better overall. Everybody is different and if you take a probiotic, you might want to try out this product. It seems like a pretty reasonable price for a 12 week supply.



Disclosure: This shop has been compensated as part of a social shopper insights study for Collective Bias and MamaBzz. This is my honest thoughts and opinion.