As September is both National Preparedness Month and the 10th anniversary of 9/11, I want to share some great tips and provide you with resources to help you and your family take the first steps towards being prepared in case of any emergency.
Ten years later, do you think you are any better prepared now to deal with an emergency, big or small, natural or man-made? Do you have a family meeting point if an emergency happened in your area and you were unable to communicate with your family members? Do you have a Go Bag?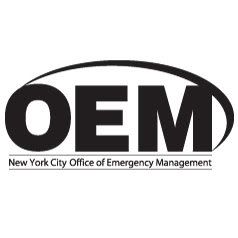 As the City continues to rebuild and plan for the future, the Ad Council and the
New York City Office of Emergency Management
's Ready New York campaign encourages New Yorkers to be ready for all types of emergencies. The Readiness Challenge takes New Yorkers through an online emergency that forces them to make quick decisions at every turn. One way is by visiting the new
Readiness Challenge
– an online emergency simulation – a tornado tears through the city, knocking out power and jamming phone lines – that forces them to make quick decisions at every turn. The Readiness Challenge also ties in the
My Meeting Place Facebook application
and other OEM materials to help users get started on their emergency plans.
Are You Ready? We ever know when an emergency is going to happen. Let's be prepared!!! Every household should have a plan that includes a meeting place and pack a
Go Bag
- a collection of items you may need in the event of an evacuation.
Win it!!!One of my lucky readers can win a Go Bag!!
This Prize Pack includes: Go-Kit Bag, Pocket Radio, Flashlight, First-Aid Kit, Batteries, Worker's Gloves, Light Sticks, Emergency Blankets, and more! ($50 value)
MANDATORY/REQUIRED ENTRY
:
Take the
Readiness Challenge
and navigate your way through the online tool to find out how prepared you are for an emergency. Leave a comment telling me how it helped you get started on your emergency plans.
EXTRA ENTRIES:
To receive these extra opportunities for entries, you must fulfill the first REQUIRED entry. But in addition you can:
■Visit
www.readynyc.org
and check out the guides for tips & information. Leave a Comment telling me a tip you found most useful. (1 extra entry)
■Follow me via Google Friend Connect (1 extra entry)
■Subscribe via e-mail (1 extra entry)
■Add
@Shawnmh
to your Twitter -Leave me your twitter ID (1 extra entry)
■Add
@NYC OEM
to your Twitter -Leave me your twitter ID (2 extra entries)
■Tweet this giveaway on Twitter. Be sure to include a link to this contest page (Leave me the link)(1 extra entry/this may be done daily)
■Add my button to your site AND/OR add me to your blog roll.(1 entry for each)
■"Like" me on
facebook
(2 extra entries)
■Like the NYC Office of Emergency Management
Facebook
Page (3 extra entries)
■Blog about this contest: Add a link to this post (5 extra entries)
This giveaway is open to US residents only. Please leave a separate comment for each entry.(Please make sure if you are anonymous you leave your email address with your comments.)
This giveaway will end on September 23rd 6th at 11:59 pm Est
. The winner will be notified and have 48 hours to respond to my email or another winner will be chosen.
*Disclosure: I am helping to spread awareness to prepare families for emergency situations. This information and giveaway was provided by the Ready NYCity Campaign*
Please visit
OEM-New York City Office of Emergency Management
for Important information.