I had heard of Heelys before but I didn't know... that they are Awesome!!
Heelys
are the original shoes with wheels in the heels that allow you to transition from a walk to a roll by shifting your weight to your heels. This Two-in-one shoe lets you take life at your own pace. With the wheels out, the stylish designs perform and look just like any other shoe. When you easily put the wheels in, you roll at a different speed. They are the Ultimate Transformer! In just three easy steps you can interchange from "walking shoes" to "skate shoes" and change back as often as you like.
Look how stylish these are...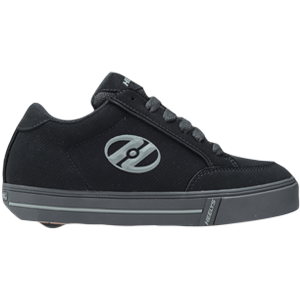 I received
Wave Style 7673 Black Heelys
to review. I picked these out of the huge selection, because I thought these were more neutral and could be worn by myself or my son. Well, I'm glad that I tried them first.(Since, he claimed them!)It's funny that my 9 yr old son and I can wear the same size shoes. These are made of quality materials and great workmanship. They are comfortable to wear as regular shoes and fun with the wheels in. It took me a few times to get the hang of the skating part but with practice it became much easier for me. I think that for adults these shoes would provide great exercise. For kids, they won't even realize the exercise part because of all the fun they provide.
These are the same ones as I received, just in white instead. You can get heelys in many different colors and styles and you can get them in youth and adult sizes. Check out the Heelys collection
here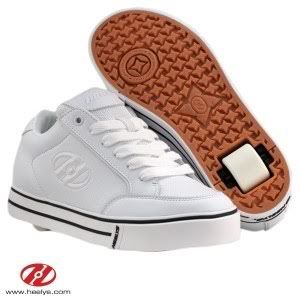 This is my son wearing his heelys. He absolutely just loves these! He is allowed to wear these shoes to school but not with the wheels in. (For some crazy reason, our school does not allow it.) But, when he gets home from school, he puts the wheels in and the fun begins.

My nephew had been watching Connor have so much fun wheeling around with his heelys on that he even tried them. He loves them and wants a pair too! The first time, he got a bruise from running into our Foosball table, but after about 10 minutes he really got the hang of it. I recommend that parents and children read the
Heelys playbook
with all the rules and safety advice that should be followed before they wear their heelys the first time. You can visit
Skating 101
where you can watch a video, or learn how to become an avid skater.
*Disclosure: I received a pair of heelys for the purpose of this review, Thanks to Heelys and Business2Bloggers. This is my son's and my honest thoughts and opinions*