Let's face it... Kids Lose stuff!!! So to help avoid your child losing their stuff, label it with
Mabel's Labels
.
The
Ultimate Back-to-School Combo
includes all the durable, waterproof labels needed to keep your kids' stuff out of the lost and found. Available only until
September 30th
, so get this bestselling Combo before it's gone.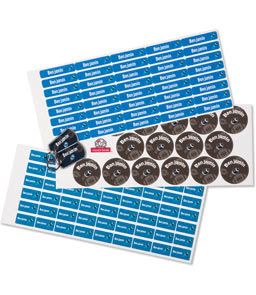 Colour:
Choose from 6 limited edition Classic colour palettes or 27 Colourful Label Out Loud™ designs, plus 6 exclusive Ultimate Back-to-School Combo motifs available for both lines.
Features:
Skinny-Minis are dishwasher and microwave safe
Tag Mates™ are washer and dryer safe
Shoe Labels and Teeny Tags™ are waterproof and UV resistant
Satisfaction guaranteed
Quantity
50 Tag Mates™
40 Skinny-Minis™
16 Shoe Labels
2 Teeny Tags™
Size:
Tag Mates™ : 21mm x 10mm (13/16" x 3/8")
Skinny-Minis™ : 38mm x 8mm (1-1/2" x 5/16")
Shoe Labels: 33mm x 33mm (1.3" x 1.3")
Teeny Tags™ : 30mm x 20mm (1-1/4" x 3/4")
Price:
$42.00
Special Offer:
Add an extra sheet of 40 Skinny-Minis™ (same name, same design) for just $11.95!
~Review~
My son and I both loved the durable labels we received from Mable's Labels. Since my son is 9, I let him pick which design he wanted and ordering was simple. He wanted the Race Cars and we even got to preview them before they were printed. They have alot of cute deigns and colors to choose from making them great for almost any aged child.
When they arrived, I was impressed by the Quality! Connor was excited to see how cool they looked on his stuff. It's nice to personalize your stuff the easy way. It's usually hard to label all of your children's school supplies with a marker. I have a hard time writing super small on everything or it smears so you can't read it.
The Ultimate Back-to-School Combo has just the right sized labels for pretty much everything my son was wearing or taking to school. The Skinny Minis were the perfect size for most of his school supplies. Connor had fun labeling his notebooks, pencils and glue sticks. He liked how cool everything looked with his name on them and applying these labels were super easy! He loved the backpack tags and every label we put on was easy to peel off and stick on and they seem to stay on great. I love that these labels are Waterproof and most can be placed in the dishwasher or dryer.
Check out
Mabel's Labels
for all your labeling needs! They have products for everyone and the quality and prices are great.
*Disclosure: I received these labels free of charge for the purpose of this review. This is honest thoughts and opinion.*