1-2-3 Textured Projects
offers professionally designed early childhood education curriculum products that are hands - on and include different textural materials, colors and craft ideas. Whether you are simply looking for fun and educational activities for kids or are trying to develop your library of preschool resources, you will find these packs and subscriptions are just the ticket!
This is Pucker the Fish...
Each kit comes with a cardstock-like cutout (ours was a blue fish) and a cardstock background (orange), included were 3 textured products to decorate each cutout.
These individual activity packs are perfect for a quick and easy craft project for the kids. They include 3 projects per pack, materials, directions, theme ideas and conversation starters. You will love being able to take these on the go or pull them out of the closet for hours of fun with your preschoolers. These cost $4.99 each, or you can buy the individual craft for $1.00 each.
This is our finished product.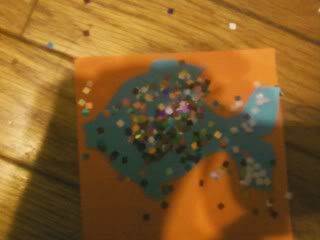 These craft kits are great for kids. As my son is 9, he enjoyed making this but the sparkles got all over. These are great for younger ones too but they will need some supervision. I like that these kits come with everything you need expect for Glue.
They come in many different types like Zoo Animals, Holiday, Transportation, Pond Creatures and more. These are great crafts and activities for young ones to explore the textures and have fun while learning. These are priced great and would be a nice activity to do especially on those rainy days.
*Disclosure: This is a
MamaBuzz review
, I received a kit, free of charge, from 1-2-3! Textured Products, for the purposes of this review. This is my honest thoughts and opinion.*