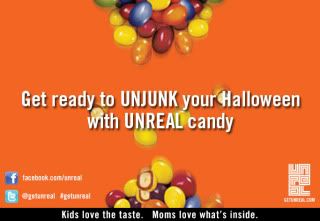 When we think of Halloween, we think of Candy!!! We think, "O Great" more junk! But...
Unreal Candy
is Unjunking Halloween.
So you are thinking... Yeah Right!! Unjunked Candy? Is there such a thing? If it's healthy, doesn't it taste Gross?
Check it out... Here it is...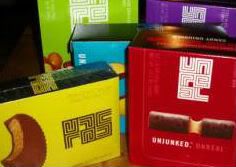 UNREAL54 ~ Candy Coated Chocolates with Peanuts
UNREAL51 ~ Candy Coated Chocolates
UNREAL77 ~ Peanut Butter Cups
UNREAL 8 ~ Chocolate Caramel Peanut Nougat Bars
UNREAL 5 ~ Chocolate Caramel Nougat Bars
Chocolate with All natural ingredients. No Artificial Flavors, No Corn Syrups, No Perservatives, No GMOs, No Hydrogented Oils, No Synthetic Colors.
Let me tell you- This is Real!! Unreal Candy is really Good! I had the opportunity to host an UnReal Candy party and had a blast! I had a few friends and family over and we got to sample some chocolate. I also took some Candy to work and got my co-workers opinions. My son's school class all got his birthday party goody bags filled with Unreal Candy.
Everyone was so happy and Loved it!!! They loved the fact that Unreal candy has 30% less sugar and still tastes great. It is creamy and a smooth, good chocolate, is what I kept hearing.
My Favorite and The majorities favorite was the Chocolate Caramel Nougat Bars!!!
Second place was the Candy Coated Chocolates with Peanuts. Coming in close for third place was the Peanut Butter Cups. But, I think you should try these for yourself!
What's great is the price too!! You can purchase UnReal Candy at Target, CVS and BJ's at an affordable price. These candies taste great, are better for you and the same price as the unhealthier competitor. What's not to love?
*Disclosure: I received compensation to have this party, I received the chocolate and goody bags to share this great product with my friends and family . All opinions are mine and my party guests.*