I received the best present in the mail the other day!!! This was my early Mother's Day gift, Thanks to Wahl. How did they know that I really needed this?
Is your body sore? Want a good massage? Well... Check this out!
The Wahl Deep Tissue Massager is Awesome!!! This will help relieve everyday aches and pains with the benefits of a therapeutic massage. The variable speed dial adjusts the massage intensity to your desired preference. This is a great feature, as in some parts of your body, you want a gentle feel while in other parts you want to dial it up and really feel it. This is really powerful and works well.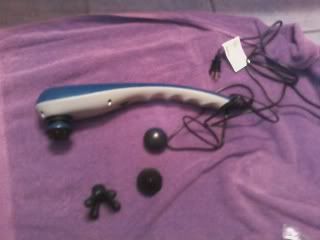 You can customize your massage experience with the four unique attachments The four finger flex attachment is one of my favorite. It is soft with finger like-nodes the replicate a human touch. The accupoint attachment targets deep into tissue and is great for pinpointing concentrated areas. The raised bump attachment, another favorite of mine, has a wide surface for the all over muscle massage. The deep muscle attachment thumps smoothly as it creates a gentle, relaxing massage for an all over general body use.
The unit is corded to provide maxium power. The cord is fairly long and the massager has a long handle and is comfortable in your hands. The nice thing is if your body is aching , you can use this yourself and massage that targeted spot. I prefer for my husband or kids to use this massager as it does relax you and makes your body feel better.
Now, I know you want one!!!
The Wahl Deep Tissue Massager sells for $59.99 or less, which is a great price. These make the perfect gift for any deserving Mom!!
Or Win One!!! Just nominate a deserving Mom to win a Mom Relief Package in Wahl's Facebook Giveaway.
Want to enter? Here's the details...
• Now through May 13, those who like Wahl Home on Facebook can nominate a mom to win a mom relief package from Wahl, whether it's your mom, grandmother, wife, daughter, a friend or yourself.
• To enter the Mom Relief Initiative, simply post a comment explaining why the mom on your list deserves relief—maybe they're a single mom who does it all, a working mom who never takes a break, a grandmother who's always been there…every mom has a story and every story matters.
• Entries will be judged on their uniqueness and sincerity and the winners will be selected once the contest wraps up on May 13. Stories MUST be submitt
e
d before then in order to be considered.
Good Luck!!!
*Disclosure: This is a MamaBuzz Review. I was sent a this product from Wahl for the purpose of this review. This is my honest thoughts and opinion.*