I had the chance to be the coolest Mom in my town this Summer by hosting an In-Home Party sponsored by DaGeDar, the game of speed and skill!
DaGeDar
is one of the hottest new toys to roll out this year from Cepia, the makers of ZhuZhu Pets.
From the moment you pick up a DaGeDar ball, you know it's something different. Drop the ball down the track and swoosh - you are hooked. This simple game of speed and skill is like no other. Innovative, thrilling, and addicting, all you want is more DaGeDar!
Each DaGeDar is made from a weighted ball bearing, and has a character face and code. These steel core, super charged ball bearings are pretty fun to play with. Each set comes with 2 ball bearings, some are goblins, aliens, pirates and more, each alittle different making them fun to collect. My son and nephews had a blast! They set up the
High Speed Stunt Jump Track
and let their balls go racing. The had fun positioning and guessing how how far each ball would go and made their own little game out of it.
That's what is great about this, it's a game where "House Rules" rule. Players determine how to play and ultimately how to win. Each player will want to control the speed and velocity in order to perfectly propel the ball through the track set's loops without falling out. Each player can create their own stunts and tricks.
Since they had so much fun playing with DaGeDar balls and tracks they want to collect more balls and they want the Two Lane Battle Jump RaceWay. Check out this picture and you will see why.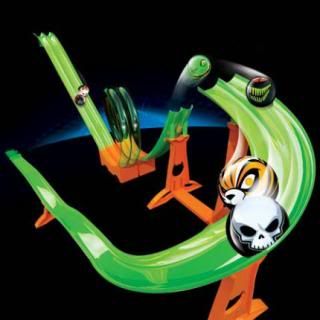 Oh Yeah!!! All the Possibilities and hours of fun!!! The options of game-play are endless and up to each players own imagination and creativity. Get your game on!!!
*Disclosure: Thank you to MomSelect and DaGeDar for providing us with all the goodies for our In-Home Party. My son and nephews really enjoyed these hot new toys and will have playing and sharing them with their friends. *